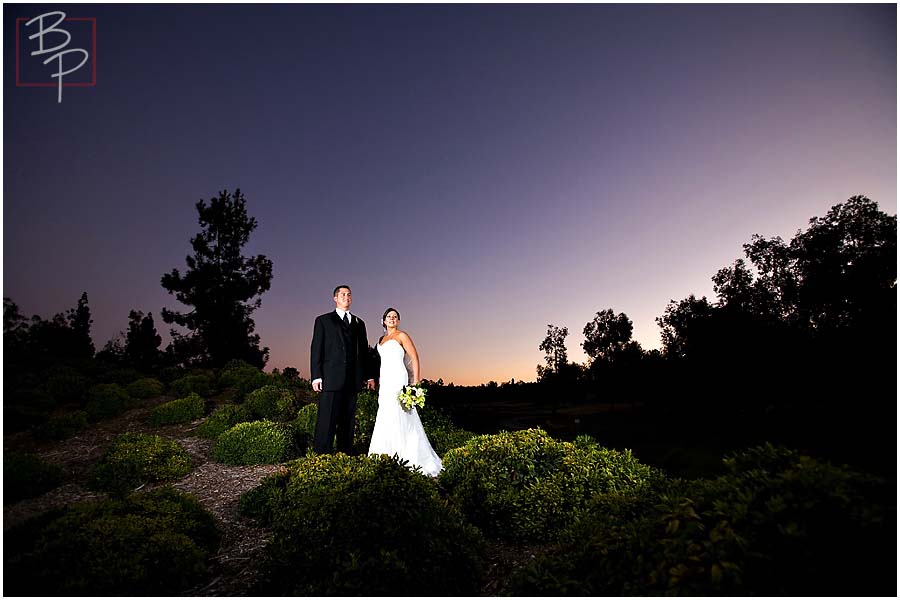 One of my favorite weddings of the year. I've known Laura and Ryan for some time, as Laura and Sara (my wife) have been friends for many many years. I knew Laura and Ryan were interested in a classy and elegant affair, and they planned a perfect day for it.
First off, it was a classic October day in San Diego – sunny and warm, with not a cloud in the sky. October has become my favorite month for San Diego wedding photography, in large part because of the usually perfect weather. Laura and Ryan are so laid back, and so the wedding day wasn't your typical blend of a bit of stress or tardiness. These two were up for pretty much anything throughout the day.
My favorite wedding image from the day is the first one in this blog post. Eder set this shot up in a matter of minutes, and I just love the colors in the sky.
If you're interested in seeing how much uplighting can help at a reception, this is a prime example. I loved the room, bathed in purple. It made it a lot of fun to shoot in 🙂
As usual, we had an amazing set of vendors to work with. Its such a privilege to work with people like this on weddings!
Coordination: Jessica Gillon, Events By Design
Venue: Tricia Sadikoff, Rancho Bernardo Inn
Florist: David Hahn, Willem-Aidan
DJ: John Gillon, PurDigital Entertainment
Lighting: La Luz Events
Decor: Concepts Event Design
Photobooth: Starlight Photobooths
Cake: Edelweiss Bakery
Hair: Studio 158