Photography that Reflects Passion and Patience
Carolyn Klusmeier is a therapist that aims to help heal; whether it's trauma or a fight between partners, Carolyn's goal is to help resolve the underlying issues that make your day to day life harder.  After graduating and getting her certificates, Carolyn started her practice to help others lead a happier–and healthier– life.
Carolyn needed photography that reflected her approachable and friendly personality.
Carolyn needed photography that clearly reflected her personality, professionalism, and willingness to listen.  When she met with Bauman Photographers, she was in need of an updated headshot for various websites, one being Psychology Today on which she advertises her practice.   During this session, Carolyn chose to level-up her experience with Bauman Photographers by choosing hair and makeup artists, additional off-site locations, and brought plenty outfits to change into– and because she did this, she ended up loving her experience and headshots so much that she bought a five extra photos to use for all her platforms!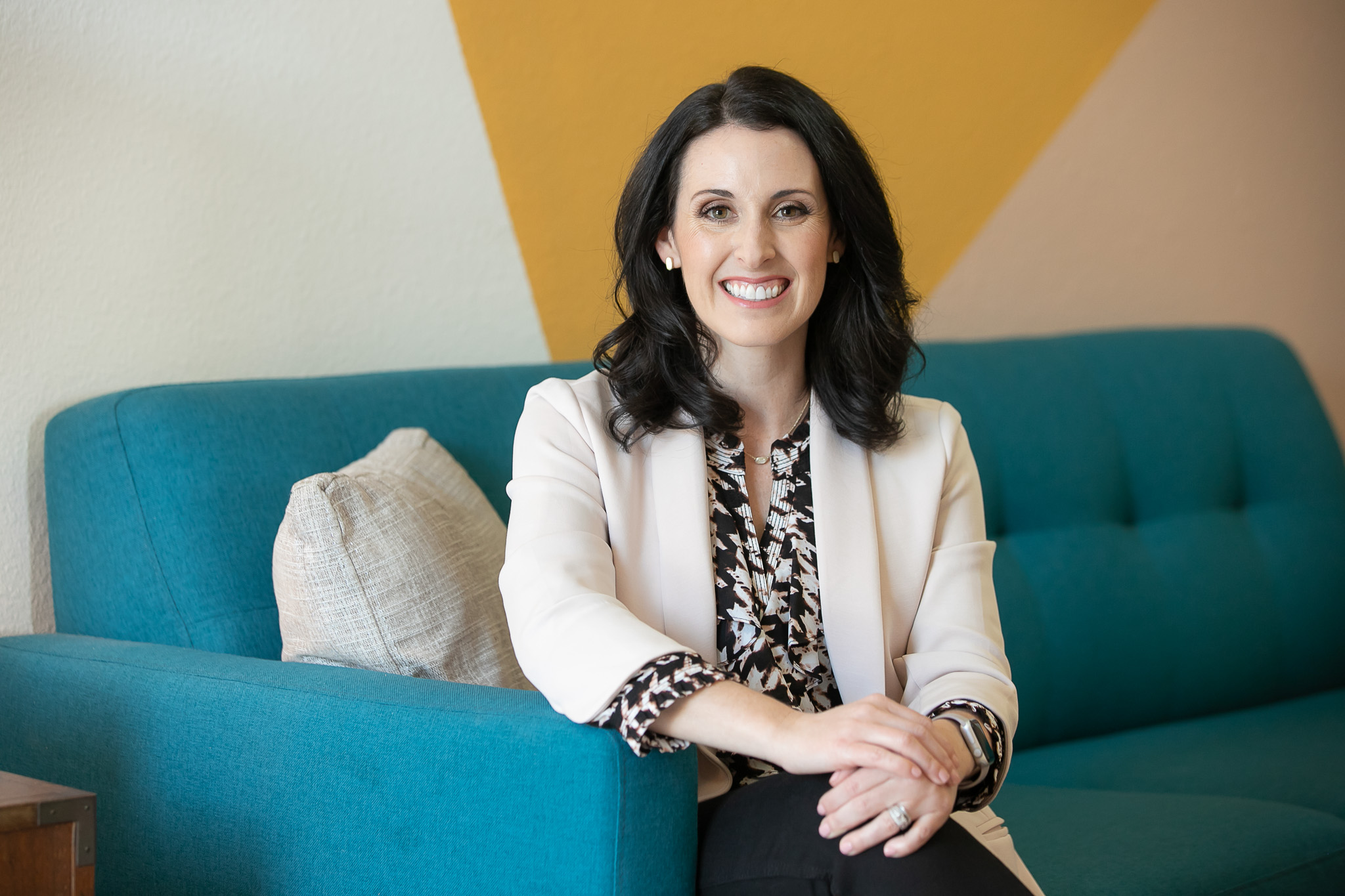 The Work We've Done
When we first met with Carolyn to discuss what she wanted, she knew that she wanted to level up her online image and have it reflect who she is as a person and therapist.
In order to do that, Carolyn took full advantage of her investment in new headshots with us. Carolyn's initial headshot session included in-studio photos only, but she chose to add an additional outside location to her booking to add a soft, natural look to her online presence. Together, we chose Balboa Park, where she was both familiar and comfortable so she would have the perfect variety to display on any website or on social media.
Carolyn also booked our hair and makeup services as an add-on for her package, knowing it was one way that she could easily  level up her headshot and have a look that would compliment the various outfits that she chose for this session.
In order to help her achieve the look she wanted, we guided Carolyn through the process of choosing outfits that she felt both professional and comfortable in so she could show her kind and warm personality in front of the camera. During her headshot session, we created a collaborative environment where Carolyn was able to review her images as they were shot so she could give us feedback and tell us what she liked, as well as adjust poses and what she wanted to wear.  Because of this, Carolyn walked away with the exact images she wanted, as well as so many more images she didn't know she needed and knew would be the perfect fit for her brand. 
By voicing her opinion and taking advantage of the various opportunities that we offer here such as hair and makeup artists, off-site locations, and our five-pack offer that lets our clients choose 5 extra images in addition to the one included in our Signature Headshot package, Carolyn was able to walk away with an entirely new and evolved online image that matched her incredible personality!
A Variety of Options
Carolyn wanted to make sure she had a headshot option for each website on which she advertises, so her perfect clients would find her and connect with her.
The Right Impression
As a therapist, Carolyn wanted to make sure to come across as approachable and easy to talk to, so she could attract the right clientele
Reliability
Just like her patients can depend on her, Carolyn wanted photography that was both reliable in deadline and consistent in quality.
Planning Consultations Both Pre-Shoot and During
As a therapist, Carolyn wanted to make sure that her photos came across as approachable and kind– just like she is! We made sure to keep an open and honest dialogue with Carolyn throughout the process of planning and during the session to make sure she could be as comfortable as possible in front of the camera.  We created an environment where she felt confident so she came across as the caring therapist that she is!
Efficient and Consistent Photography
As Carolyn needed imagery that was both brand consistent and arrived according to the deadline, we made sure to meet that goal.  During the process, we made sure that Carolyn's photos were standard across the board in terms of feel, quality, lighting, editing, and delivery.  After Carolyn had chosen her photos, she decided to select extra headshots to add to her order; we made sure to get these retouched and delivered at the same time as her original order so she would be able to enjoy and use all of her photos at once.
Hair and Makeup
By employing a hair and makeup artist, we made sure that her looks would seamlessly transition throughout in-studio and on-site sessions, as well as perfectly fit her personal and professional brand so they could all live together on the same website. Nothing felt out of place or off brand