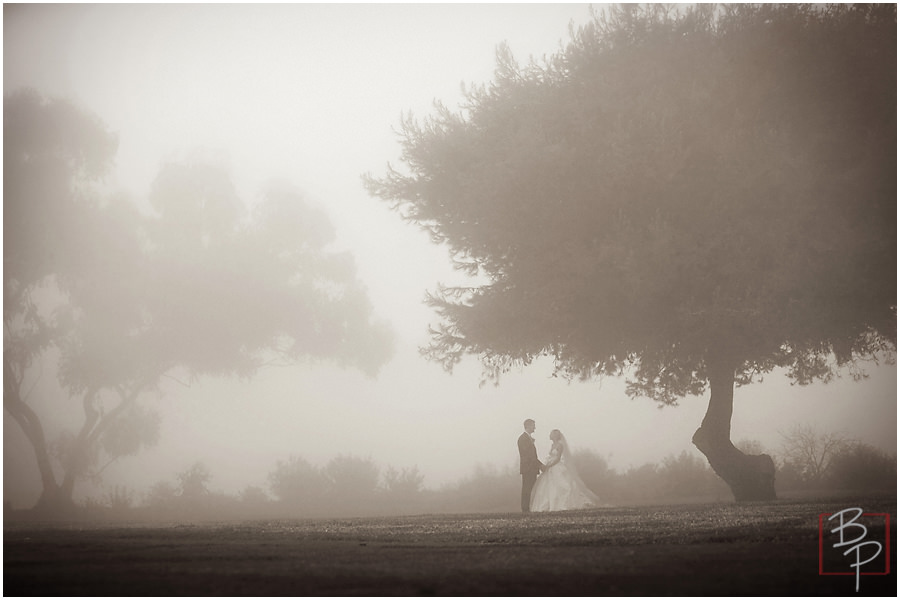 I couldn't sleep after I got home from this wedding . . . This was a truly magical day.  It had so many things going for it, anyways.  Andrea and Scott are such a fun couple, and I knew we'd have such a good time.  Bronson and I were shooting together, which is rare these days, but always fun.  And, we were shooting at the Lodge at Torrey Pines, which is gorgeous location!  Combine those three things and I was super excited going in to the day.
It was one of those warm October days that this area is known for – a perfect day for
San Diego wedding photography
!  Up on the bluff of Torrey Pines, though, it was incredibly foggy!  Right before the ceremony, the fog backed out and we had a gorgeous, sunny day.  And then, right as Andrea and Scott went to kiss, the fog barreled in over the bluff again.  They turned to walk back down the aisle, and the fog literally followed them out!  Within seconds, the whole ceremony site was covered in a thick fog!
Now, we had wanted to head out to the bluff and get one of those amazing vista shots, with the sky and ocean and the couple on the edge of the cliff.  That clearly wasn't possible now, since you couldn't see more than 5 feet in front of you due to the thick fog.  But, we went out towards the bluff anyways.  I was convinced we could come up with something that would still be really artistic, while still preserving the incredible uniqueness of their day.
The picture above is what we got …. !!!!
In the end, there really were so many amazing images, and it was such a fun day.  We had a fantastic team of vendors (I always seem to be saying that :).  Congrats to Andrea and Scott, and their magical day!
DJ: Tony Orlando