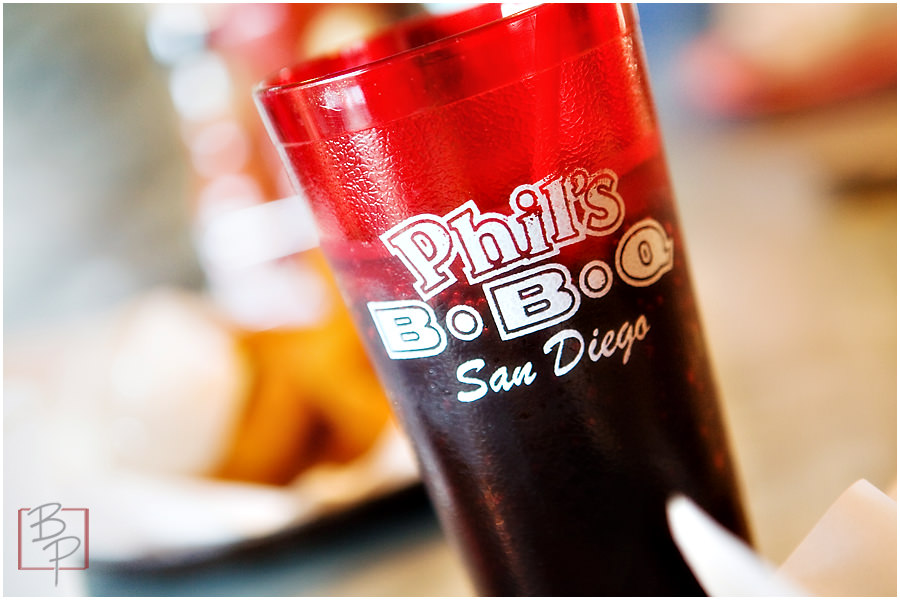 Phil's BBQ claims to be the best BBQ restaurant in San Diego. They might be right. For the past ten years Phil's has been serving up their tasty menu that includes everything from baby back ribs to tri-tip sandwiches that keep customers coming back for more. The Bauman Team had not been to Phil's in months so we returned with big appetites ready to satisfy the BBQ craving.
Phil's is located in the Point Loma neighborhood right down the street from the San Diego Sports Arena, so it's a convenient 10 minute drive away from our studio. This week we had the whole team come out to lunch with us, including two of our interns Kara and Tasha and videographer Joe Park of JoeParkWeddings.com . We were specially happy that Kara was able to make it on this lunch since it was her last week as an intern at Bauman Photographers and is heading off to art school.
There are some Phil's favorites that our team has, Jacob ordered the BBQ Broham which had pulled pork on a bed of coldslaw served between two buns, I ordered the  El Toro which was about the same thing as the Broham except with tri-tip. Bronson's favorite is the Rib Tickler which includes a Rib, coleslaw, 2 onion rings and fries. He did not get that instead he got the Chicken Tickler and was a bit disappointed because it was not close to how good the ribs are. One of the stand out items are their onion rings, they are huge and the batter they use is very delicious.
Phil's BBQ is a great restaurant with great food and excellent service. They also have a great marketing plan and even utilize social marketing to keep customers coming back. Take a look at photo below of the carpet they have outside reminding people to use Twitter to update their friends on their recent trip to their restaurant.