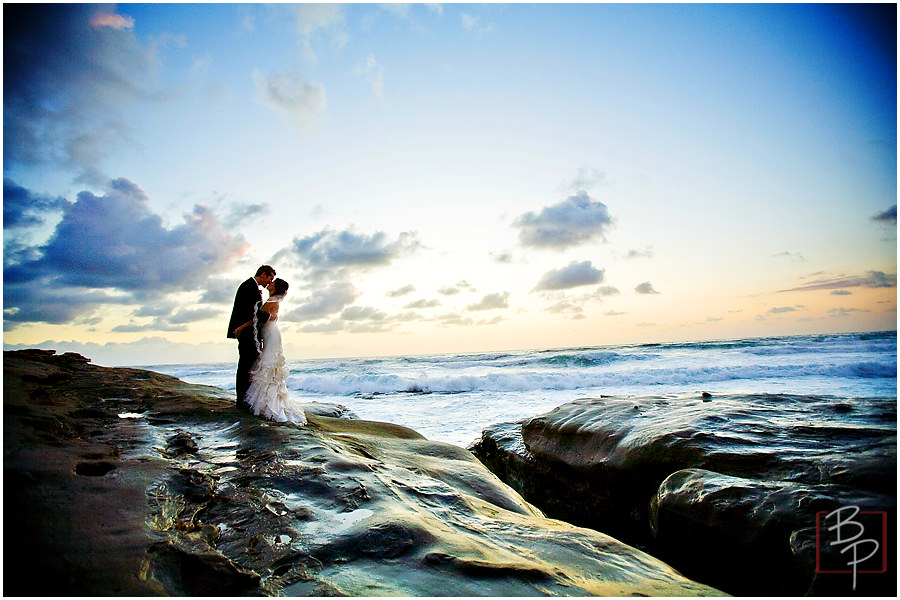 For those of you in Southern California, last week was some crazy weather! Jenna and Dusty's wedding wasn't really a whole lot different 🙂 A post-Thanksgiving storm blew in, and dumped for most of their wedding. I have to say, though, that it didn't really affect the spirits of the wedding. This was a really good time, and I think its safe to say that every guest had a really good time.
Believe it or not, I went to grade school with Dusty. We had lost contact after high school, and it was really exciting to have the opportunity shoot his wedding. He met a wonderful girl Jenna at medical school in Arizona, and the two of them make a really fun team. I have to admit – its a little daunting to be hanging out with not one, but two doctors-in-training 🙂 We went out to Sunset Cliffs for their San Diego Engagement Session, and actually had similar weather as we ended up having on their wedding.
Their ceremony was at the Mission de Alcala in Mission Valley. This church photographs SO well! We stepped outside after the ceremony and it had just started to rain, so we dashed over to the beach. Lucky us – clear skies and a break in the storm! After shooting with the wedding party, we got some amazing images that really highlighted the wind, clouds, and colors!
The reception was at the Darlington House in La Jolla. Thankfully they had a tent for the reception, as a downpour ensued right as we arrived! The rain created an intimate and fun environment for the reception, that included some hilarious toasts and great dancing. Congrats guys!
A shout-out to Kathy Wright for designing some stunning floral arrangements! Wow – look a the girls bouquets!