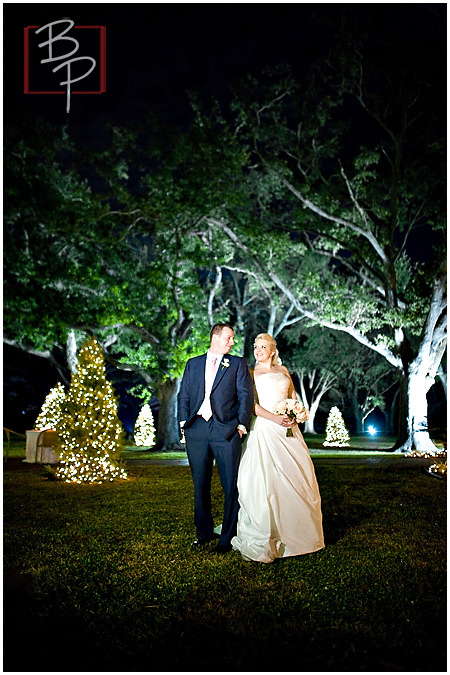 Jennifer and Kendall are officially Bauman Photographers family and we feel as though we are a part of theirs!!! We headed out for another awesome New Orleans wedding on a beautiful day and arrived in much cooler weather but in a very special area of New Orleans. Typically we are centered around the French Quarter so this was great to experience the Garden District fully. We were able to explore some different restaurants in the area and it had a very quiet, tree lined and residential feeling to the whole area. The street car near our hotel would drop us off right in the French Quarter if we ever did want to head out for some fun in the evenings.
The weekend started with an amazing rehearsal dinner at the Commanders Palace Restaurant which had a gorgeous courtyard, specialty appetizers and drinks including the French Quarter flaming café brûlot We got a couple casual shots of the fun and entertainment in the chilly night air of the courtyard after a delicious feast complete with some great toasts and singing.
The wedding day started in the late afternoon at Jennifer's quintessential New Orleans suburban home and at twilight we headed to the ceremony – you may recognize the chapel – it is the Sacred Heart Academy chapel where Marianne and Kieran were married (our first New Orleans wedding)
After the twilight ceremony, we headed to the Audubon golf club for the reception and live music carried the night in a dancing frenzy including the ever-popular spontaneous second-line dance around the building. Fresh steamed clams, made-to-order quesadillas, mashed potato martini's and tray-passed late night breakfast sandwiches were some of the great fare.
Our good friend and fellow photographer Jeff Youngren joined me for the trip which was a ton of fun. On the last day, we went for a swamp tour and headed to the Checkered Parrot to watch the Charger game and ended up having the best chicken wings I've ever had! Oh yes, my other recommendation..the Sugar Shack fried catfish sandwich was INCREDIBLE!!!