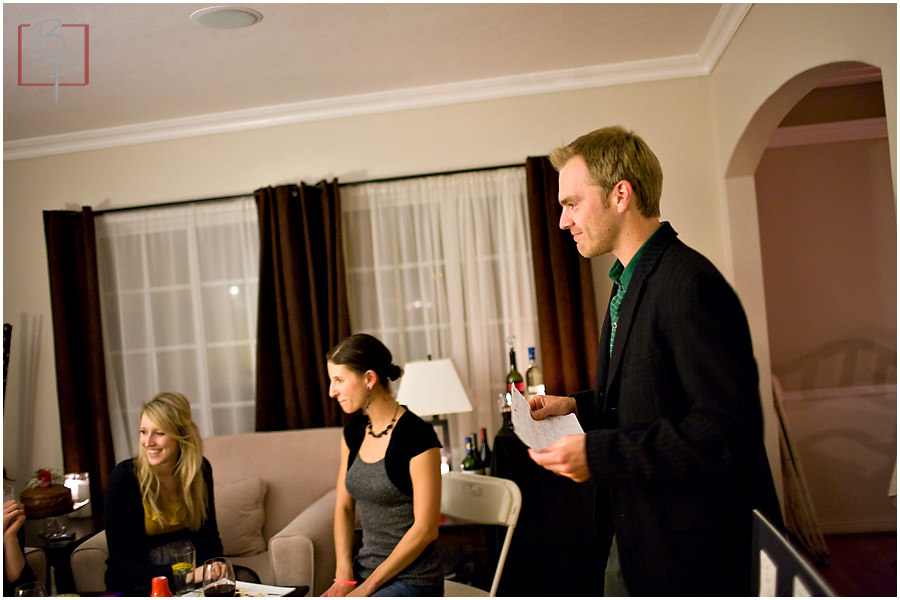 This last Sunday we finally got to do our end of the year party and it was awesome! It was a night filled with great friends, food, games and lots of laughs.
The company party for our studio is usually around the holidays, however with last December was much busier than most Decembers with destination weddings and holidays back to back. Then after the holidays Jared and Sara got married and went on a honeymoon. After Jared's return, we began our move to our new studio. So after all that we finally found a day that we could take time to celebrate, Valentines Day.
Jared, Sara and Joe really took time to plan an excellent party. Walking through the door, we were greeted with champagne and there were some excellent appetizers on the table. Joe made bacon wrapped shrimp, a spicy artichoke cheese dip, and some excellent home made guacamole. After spending some time chatting it up we began to play the first game of the night, Bauman Jeopardy. The game was played by everyone that did not work at the studio, friends and loved ones, and it was all about Bauman Studio trivia. "This person has a European vibe and is known to wear white Italian shoes in to the studio". "This person has said 'I'm not going to lie, saying that I am good in bed is an understatement." "This person gets a haircut every other week." "This person clears his throat more than a horse with tuberculosis." Who is…?
We then moved on to a delicious diner cooked by Joe. It included a salad, a twice-baked baked potato, and a very delicious tri-tip. We walked away from the table feeling very satisfied and began with the awards ceremony. The Baumies are done in tradition very much like the Dundies from The Office, funny and awkward.
We ended the night out with with a Rockband session and closed it out to Reptilla by the Strokes.