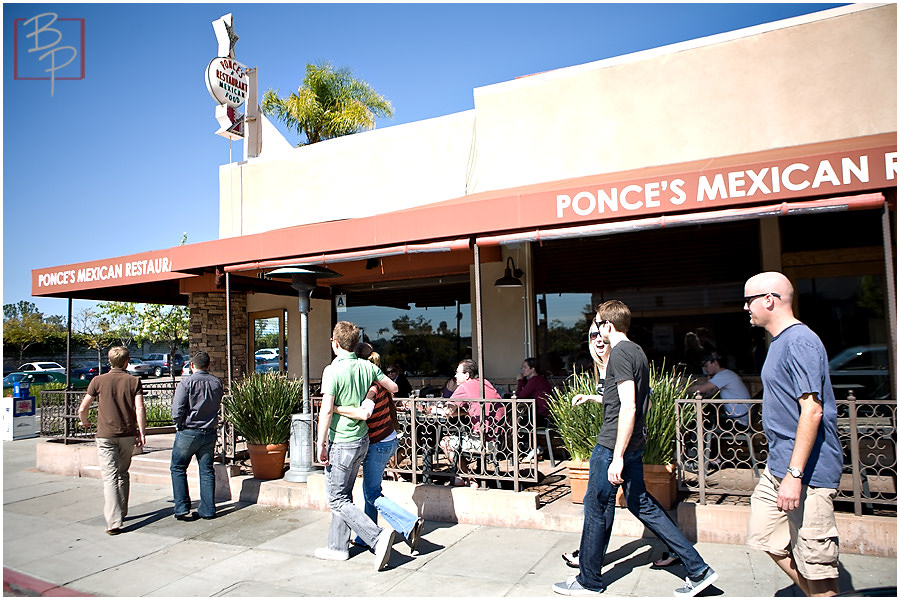 This week we continued exploring our new neighborhood and visited Ponce's Mexican Restaurant on Adams Avenue. Eight of us went to lunch this week, including one of Bronson's engaged couples, John and Stacy who are getting married on June 18th of this year.
The restaurant is only a block away from our photography studio in Kensington, so we were excited that it might be a good restaurant that we can make regular trips to. It was good vibes from the get go. When you walk through the door you could feel a very lively and comfortable atmosphere. As we waited to be seated, a fresh batch of corn tortilla chips and salsa was placed on the table.
At the top of their specialty menu, Ponce's lists chicken enchiladas. So when we saw them on their lunch special menu, most of us decided to put their specialty to the test. Their chicken enchilada came with a scoop of sour cream and a side of rice and beans. It was a very good portion and very delicious. For me the test for a Mexican restaurant is usually their rice and beans, most places, just can't get them right. Not Ponce's, their rice and beans were very flavorful and fresh as if they has just finished cooking and not sitting in the kitchen all day on the warmer.
Their lunch specials range from $6.95-$7.95 and come with plenty of food. We all left there very satisfied and look forward to returning for lunch soon.
On the way back to the studio Bronson took an opportunity to do a mini shoot with John and Stacy!
I wonder who will stop by this next Wednesday to visit us and join us for lunch…