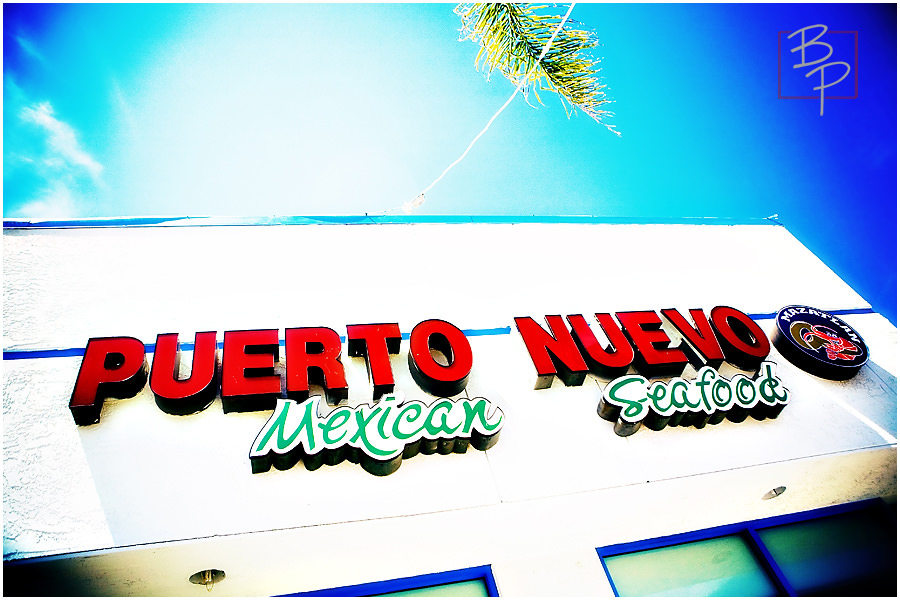 In this week's installment of Bauman Lunch, we took a trip down El Cajon Blvd to see what we could find. We drove 7-8 blocks off the freeway and then decided to backtrack to a restaurant we had spotted earlier. We ended up at Puerto Nuevo.
The restaurant is located on El Cajon Blvd, just a few blocks from the 15 Freeway. When we got there we had just missed the filming of a new TV show based in San Diego. They had a sound truck parked on the side street, and security all around the block.
The restaurant was very empty for it being 1:30 pm. There was just a few teenagers in there and they seemed to be sleeping. The restaurant had white walls and very bright colorful furniture that made it feel a bit festive. A glance at their menu revealed that they had a sea food emphasis, separating it from other Mexican restaurants in the area. It was also a bit more pricey and there where no lunch specials.
We stuck to the taco and burrito menu on the back of the menu, which seemed to have all of the lowest priced items around $9. We usually try to not spend $20 on a complete meal for lunch. We ordered a some chicken tacos, some fish tacos and some shrimp tacos. Unfortunately they were all out of chicken so Joe had to settle for steak.
While we waited the waitress brought us some chips and salsa. The chips tasted fresh. The food did not take long to arrive and when it did it looked and smelled great. After taking a few photos, we dove in and where pleasantly surprised by the overall quality of the meal. Even the rice and beans where very delicious and had a good texture.
Overall I would recommend this place, specially if you are a fan of sea food. I myself want to try some of their other items.