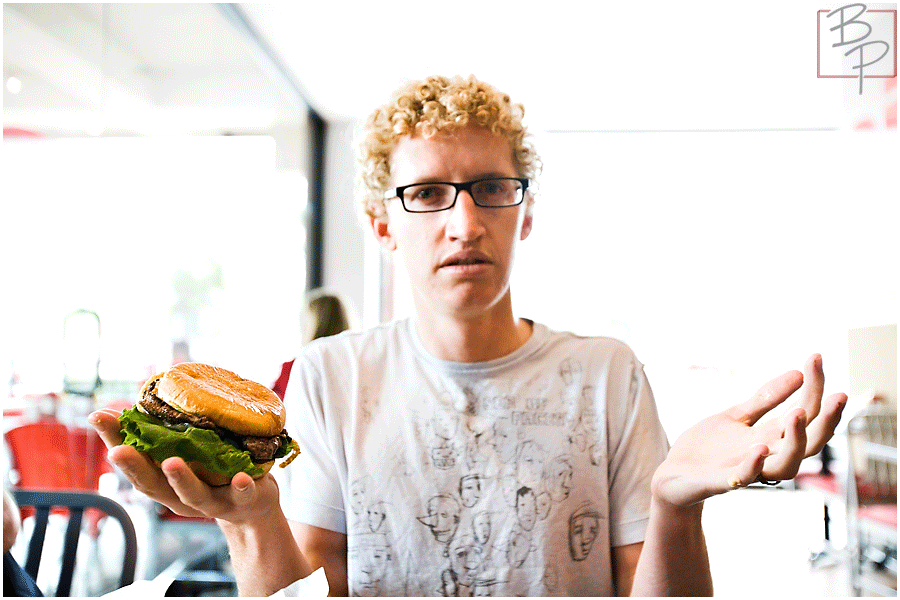 This week we continued with our Burger Month series and visited SmashBurger in Mission Valley. We had heard great things about the one in La Jolla and since it was the first week that the Mission Valley had opened it's doors, we thought it would be perfect to visit.
The first impression was that the branding is pretty cool. It's got this hip vibe with the modern look to it and the bold colors and branding throughout the restaurant. We were also excited to find out that there was a short line. However the short line did not mean that we where able to order any faster, it took a long time for customers to place their order with only one register open.
After ordering the food came quick. So fast that our first person that ordered had their food before the last person ordering had reached the food.
The long wait to order was worth it. Bronson's description was as follows: "I think that SmashBurger had wonderful seasoning on the beef and really creative burger add-ons". Bronson made a custom burger with a 1/3 pound patty, cheese, and both grilled and crispy onions. I had the San Diego burger which came with a 1/3 pound patty, cheese, cilantro, onions, avocado and some delicious sauce all on a torta bun. There where great combinations all around the table.
SmashBurger was a hit. Everyone really liked it and it was a great deal compared to other burger locations that provide quality burgers. The burgers where $5-6 and with drinks and fries the meal was around $10. The average rating was a 4.4 out of 5 between all of us. I'm sure we will visit them again soon.