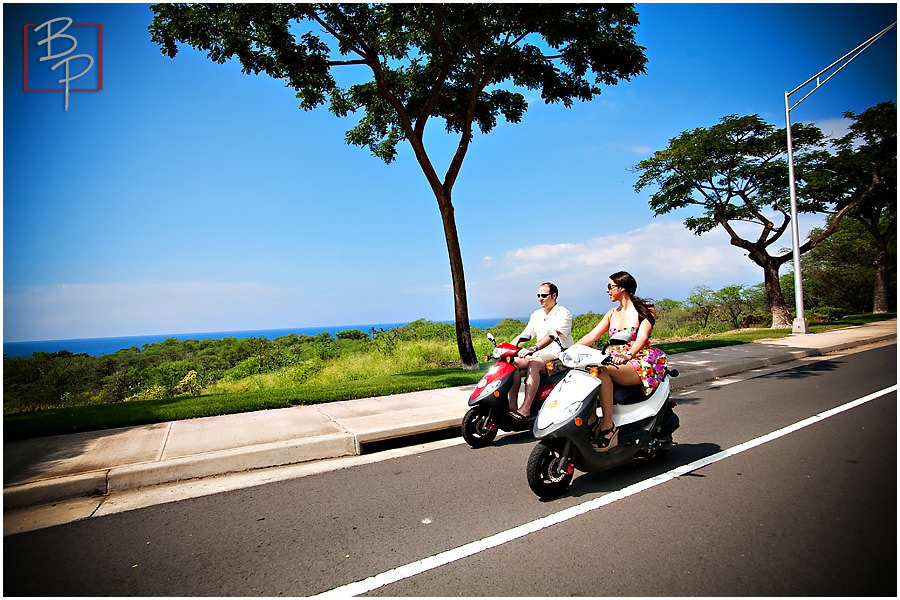 Hawaii. Do I not have the best job in the world? Laura and Justin are from San Diego and made the leap of faith decision to have their wedding in Maui. I was fortunate enough to be their wedding photographer of choice 🙂
For starters, how can you go wrong with a Hawaii wedding? Second, Laura and Justin were up for pretty much anything I threw at them as far as fun ideas for shooting – a Hawaiian engagement session that involved renting scooters to drive around the island on? Sure. Trash the dress at a waterfall? Why not? Get up at 5:30am the day after your wedding to make it to said waterfall? Absolutely.
The beginning of the week was filled with fun personal time; snorkeling, sunning, driving to the top of Haleakala for sunrise, lunch with a new friend Anna Kim, a visit with some college friends Winter and Jason (who just happened to be in town), dinner at Roys with the wifey…it was wonderful.
When it came to the wedding day, the preparations started at the amazing Kaanapali Beach Hotel where we did a lot of the wedding party photos, family photos and the first look with Laura and Justin. This is also where one of the cutest moments I've ever witnessed at a wedding happened. It may not sound like much but Laura discovered that her dress had pockets and her exclamation of her discovery was honestly adorable.
After a few breaks from the sweaty heat in-between shoots, we headed to Merriman's Restaurant for the awesome cliffside ceremony. The traditional Hawaiian elements that they incorporated into the ceremony were fun to see and fit them well. Although the weather shifted a bit during the ceremony, I couldn't complain because I love the moody dramatic photos that came after the Hawaiian themed ceremony.
We headed to Lahaina to the Old Lahaina Luau for the reception where the guests were entertained, educated, stuffed with amazing Hawaiian food and drink, and there was even a chance for Laura and Justin to have their first dance near the end of the evening.
The next morning, we headed out super early to a waterfall where the only pesky element of the incredible surroundings was the SWARMS of mosquitos eating us alive. The trash-the-dress was so much fun though and I shortly thereafter made my way home for a night before heading to Vegas for WPPI! Can't wait for my next Hawaii wedding photography experience – But, what an amazing trip!
Vendors:
Coordinator – Fay Hovey
Hotel – Kaanapali Beach Hotel
Ceremony – Merriman's Kapalua
Reception – The Old Lahaina Luau