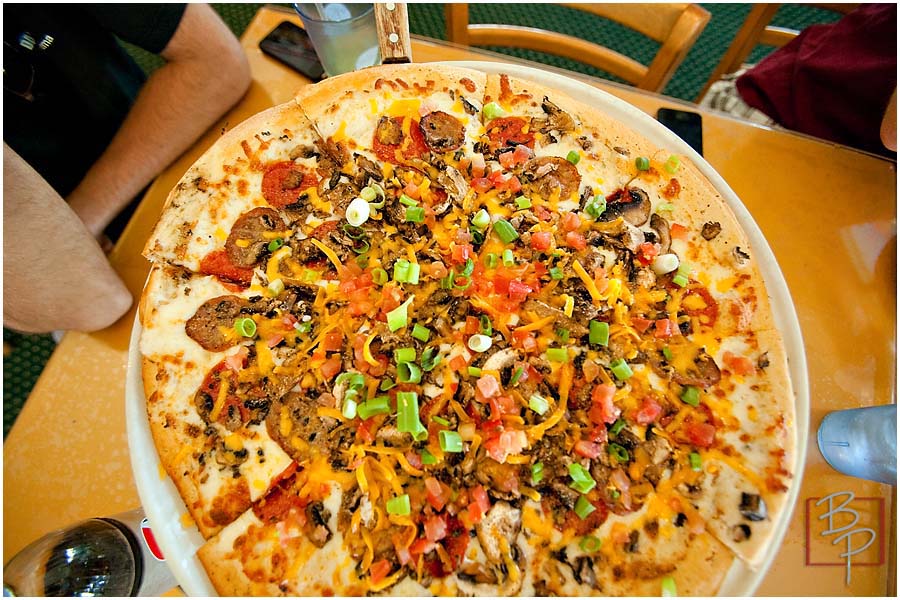 HAPPY BIRTHDAY, JARED!!
This week we celebrated Jared's 21st…I mean 29th birthday! Zimmer brought in a Champagne cake so we could all sing to him : ) And the next day, Sara Bauman brought in her secret family recipe of "Texas Sheet Cake" which was quite possibly one of the most delicious things I have ever had. It was like a chocolate brownie cake on the bottom, with chocolate fudge goodness and topped off with walnuts. Ah-mazing! We love birthday's around here, there are always yummy treats to share!
So we let Jared pick a lunch place and he came up with Joe's Pizza off Clairmont Mesa Blvd. So naturally, we forced Joe, our videographer to come with us only because of his name! It was the classic old school pizza shop with the sticky green booths, bricks walls and the vintage large TV playing sports highlights. We had a great $25 off coupon so we ordered a couple large gourmet pizzas which was the perfect amount of food for all of us. We had one XTreme Pizza which had Creamy White Garlic Sauce, Sausage, Pepperoni, Mushrooms, Parmesan Cheese, Fresh Cheddar Cheese, Tomatoes and Green Onions. Then we split the BBQ Chicken which had Sweet Tangy BBQ Sauce, All White Meat Chicken and the Chicken Bacon Club Creamy White Garlic Sauce, Red Onions, All White Chicken Breast and Smokey Bacon. After a round of the classic arcade game (Eder beat Zimmer, of course) we drove home…with a quick detour at Starbucks, of course.