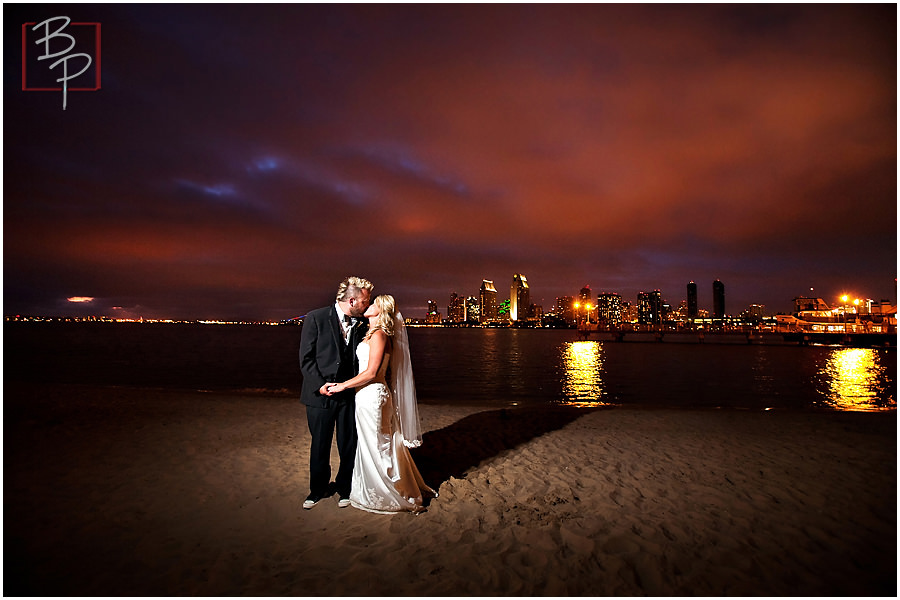 This couple has style!
In July I had the pleasure of photographing Kristin and Andy's wedding.  They are a really cool, easy going couple with very fashionable style.
Before the wedding Joe (from Joe Park Weddings) and I met with Kristin and Andy to go over the wedding day, and from that moment I knew that it was going to be an awesome day for some cool photos.
We started off with some preparation photos  at the Marriott Coronado.  I love doing prep photos because you get to see all the details come together.  Kristin had some awesome glittery shoes and her dress had really cool embroidery on it.   Andy went with the black vest and the silver and black bow tie.  He also added skull and crossbones cufflinks to add a little edge.
The ceremony had a great view of the San Diego bay and the downtown skyline.  They set up the chairs and the archway in the grass and decorated with multicolored flowers.
We could not have been more lucky with the sky.  We had nice defused light and a super blue sky.  With a little lighting we got some awesome images.  These where some of my favorite couple portraits of the year.
Candela's was a great place for their reception.  A lot of guests are from out of town and they got to experience a sunset dinner with a view of the San Diego Bay.  A great way to experience the city.
While the party was going, there were fireworks at Petco Park, so we ran outside get some photos of them with fireworks. Magical =)
This was an awesome wedding day and it was great working with Jessica from Events by Design who made sure that everything ran smoothly.
Wedding Coordinator – Events by Design
Cake Artist – Sweet Cheeks Baking Company
Musician/DJ – DJ Pat Sullivan
Gown Boutique – Enzoani
Venue and Caterer – Candela's
Cinematographer – Joe Park Weddings