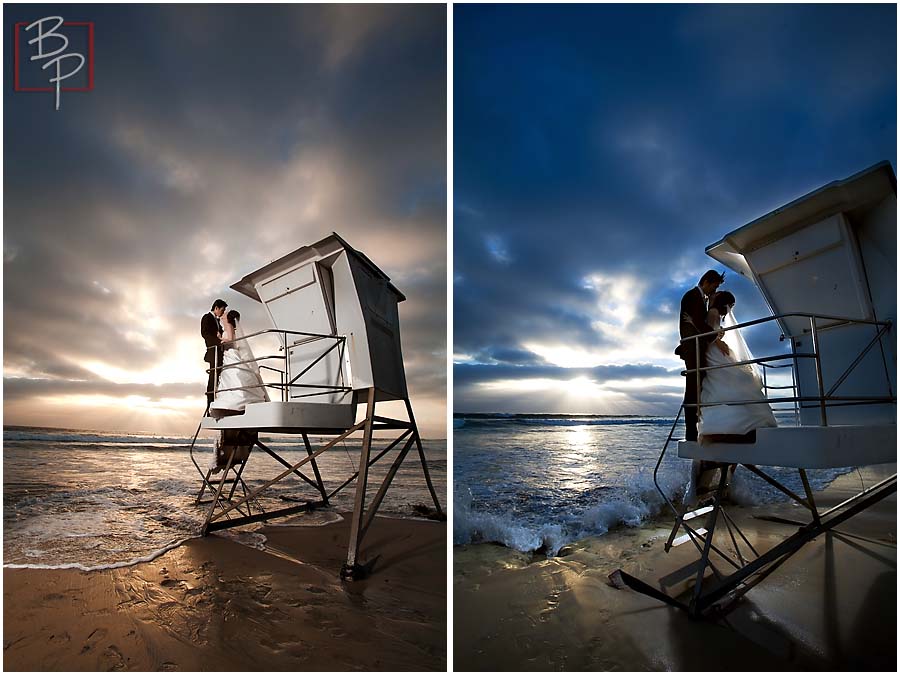 I'm pretty sure Nina and Peter had some modeling in their past. This couple came to San Diego from Pennsylvania to be married on the water, and they rocked it! Their ceremony was on the cliffs above the Pacific Ocean at Seagrove Park in Del Mar, with their small intimate wedding reception at the historic La Valencia Hotel.
After the ceremony, we wandered down onto the beach to get the amazing sunset images you see. And, like I said, these two were so much fun to work with! All you had to do was tell them to look at each other, and they instantly got lost in each other and forgot all about you.
There is a pretty funny story that came out of the wedding photography as well. In the process of taking those images by the Lifeguard Tower, I managed to completely soak Josie and Zimmer …. needless to say, they weren't all that happy about it 🙂 Hey … you've got to do what it takes to get the shot, right??
As always, it was great to see our friends from NR3 Video – John and Norma. They posted an amazing video teaser of the wedding here!
Congrats Nina and Peter!