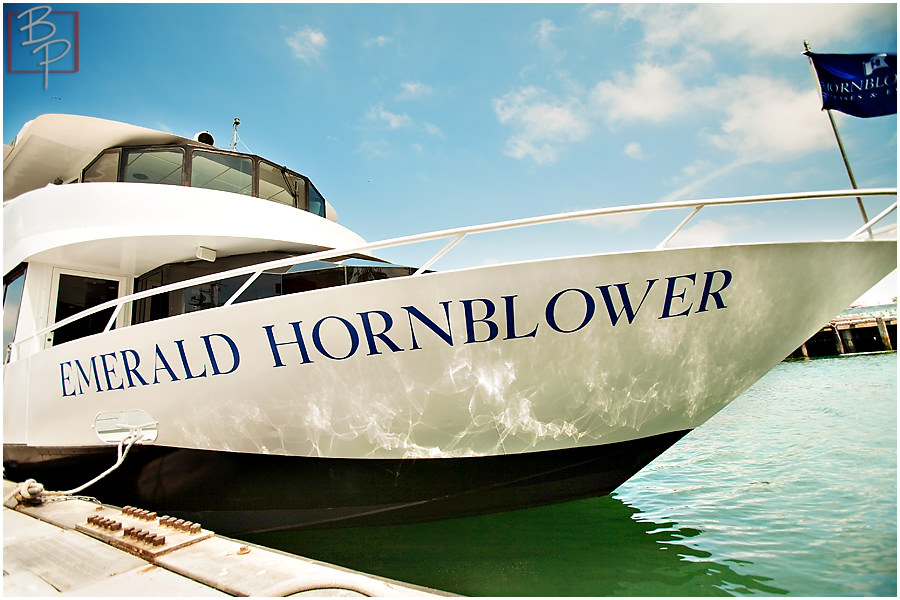 The Emerald Hornblower and I go way back.  It was where I photographed my first wedding for Bauman Photographers.  I have had the opportunity to shoot a wedding on this boat at least once a year since then, and every time I get a chance to photograph a Hornblower wedding I get excited about the challenge.  Boats come with a laundry list of challenges for photographers but the biggest is the limited space.  It is difficult trying to create great photos when you don't have much room to work with, so we make the most of what we have.  What we have is the beautiful backdrop of the San Diego Bay.  As the boat circles the bay, the scenery changes constantly making for some interesting backdrops.
The upside to being on a boat is that you have friends and family very close to each other, which creates opportunity for great candid moments.  I love capturing the moments in between moments when energetic kids freeze for to take in the scenery around them or catching someone taking a nap under the sun on the front of the boat.  It makes for great family story telling years later.
We could not have asked for a nicer day for Angie and Ali's wedding day.  It was sunny from the moment we left the dock to the moment we came back.  We cruised around the bay for hours and got to see a lot of great views of the San Diego Bay.  We even got to see all of the seals over by the Naval Training Center.