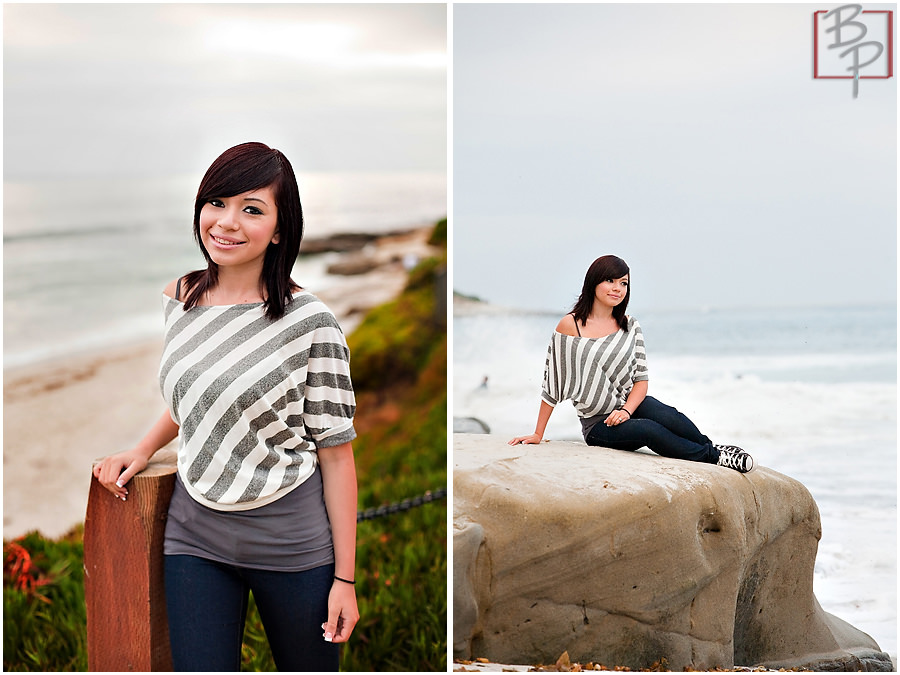 It seems like you never know when you will get a sunny day at the beach.  The coastal eddy can come at any time during the year, leaving the skies with little color.  It's both a good and a bad.  On one hand you have the convenience of really soft light that allows us to photograph in any angle.  On the other hand we can't get those really cool colors and contrast that we get from sunlight  and blue skies.
Since we never know when the coastal eddy will develop and roll in to the beach neighborhoods, it is hard to plan ahead for a beach shoot.  And when you have clients driving to San Diego from El Centro for a beach photo shoot, we have to make the most of it.  For this portrait session, I made the most of the weather conditions by using the coastal eddy to my advantage.  Since the light was even from every direction, I could shoot in any direction that I wanted.  I used this to find color in the water, the rocks and event the wooden steps that lead down to the water.  The soft light also allowed me to add a little off camera flash to make the environment a little more dramatic. With a little flash I was able to bring the different shades of blue and purple out of the sky.
To me the best part was that my clients never let the gloomy conditions ruin their mood.  They seemed happy to be there and seemed to trust me to create some fun beach portraits for the quinceañera invitation cards.