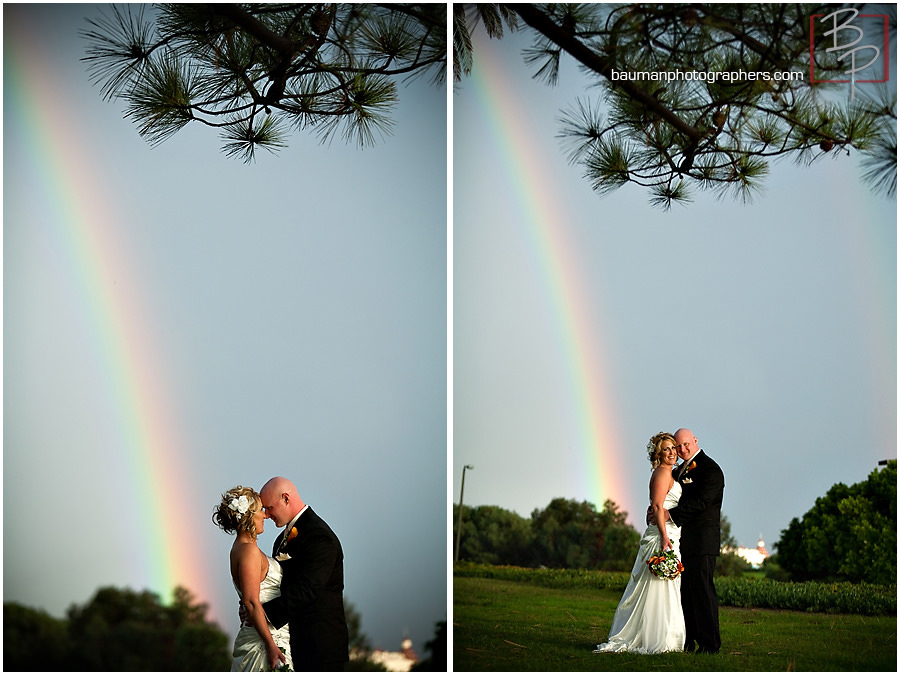 Yeah, that actually happened.In photography, there is a common phrase…. "bad weather is good weather". It could have never been more true than on this day. Jenn and Josh's wedding day was cold, blustery, and rainy. The morning of, I looked out the window and thought "Oh boy, this is going to be interesting." I called Julie Scrivener, the coordinator, and we came up with a plan for the rain. The ceremony had to be moved inside, and we had to come up with a plan for where to do all of the wedding photographs.
Jenn handled it like a champ. Her spirits weren't dampened at all. Right after the ceremony, we got a quick break in the rain, and the sun peeked through. We were doing the family formals, and I glanced outside and saw the rainbow. We RAN out to the grass to grab the rainbow images that you see…. and just like that they were gone. Less than 5 minutes, but we had gotten it. The rain returned… but this time not for long. In the end, we got to go and do some Coronado beach wedding photography at sunset. And these will be images that I will always remember.
On days like these, it was so obvious how beneficial it is to have a great team of vendors. Julie Scrivener (Coordinator) and Mick Scrivener (DJ) worked with us to ensure that we got these great images. They were so flexible and easily able to roll with the punches. Thank you to both of you for helping us out so much!!!
We're working on their album right now – I'll share the design when we wrap it up! Congrats you two!