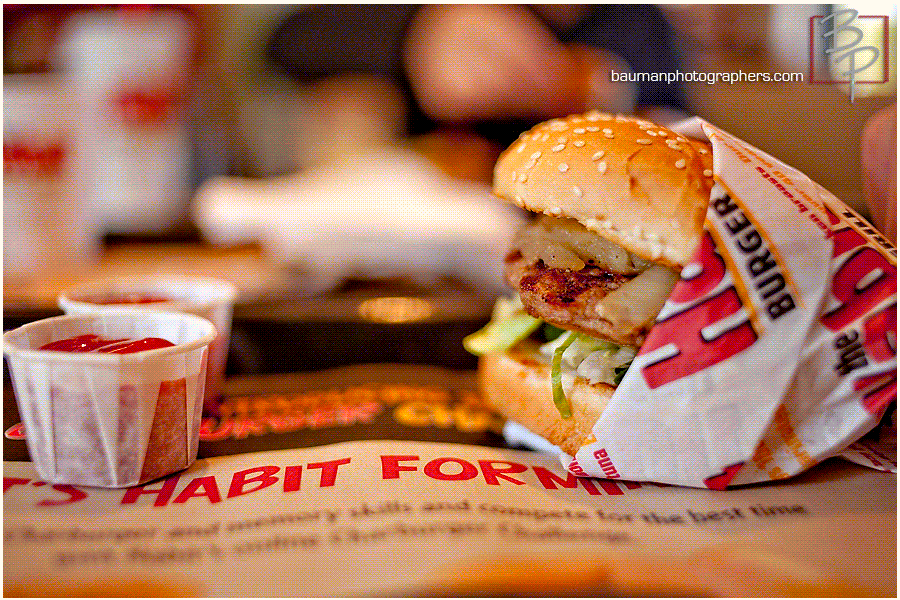 Nom nom nom nom nom!!!  This burger is hungry!  We had a little fun with the food.  I can't wait for our corporate event photography clients ask us for some animated photos like this one =)
The last few weeks the morning news has been doing a burger challenge, so I have had burgers on the brain.  After looking at a few places online we settled on The Habit Burger and Grill.  This place won over the other places we were considering since none of us had been there and it was at a very easy location to get to.  It's located in a shopping center in Mission Valley.
When we got there the first thing we noticed was that they share a parking lot with Fuddruckers.  They took over the place where Baja Fresh used to be and moved in right next to another burger restaurant.  That's very brave so they must have a lot of confidence in what they have to offer.
Looking at the menu it was pretty easy to make a decision.  There wasn't a ton of options. They had a hand full of burgers and then a list of add-ons at the bottom of the menu.  Then they had a variety of sides and other things on the menu like salads.
We did not talk about what we were going to order 3 out of 4 of us ordered the same thing.  We ordered the Teriyaki Burger, but I added bacon to mine.  I can't help it, I'll add bacon to anything!!  The burger was great, it was full of flavor and we all like the seasoning and the teriyaki sauce.  Next time I will double up on the patty though.  The patties are small like the ones from In-N-Out, so if you like meat, don't forget to double up.
Overall it was a great find.  We were all very happy with this choice.  We also liked how this place was good to our wallets.  We did not spend much more than what we would have getting a combo at any regular fast burger joint, but it felt like we got so much more.