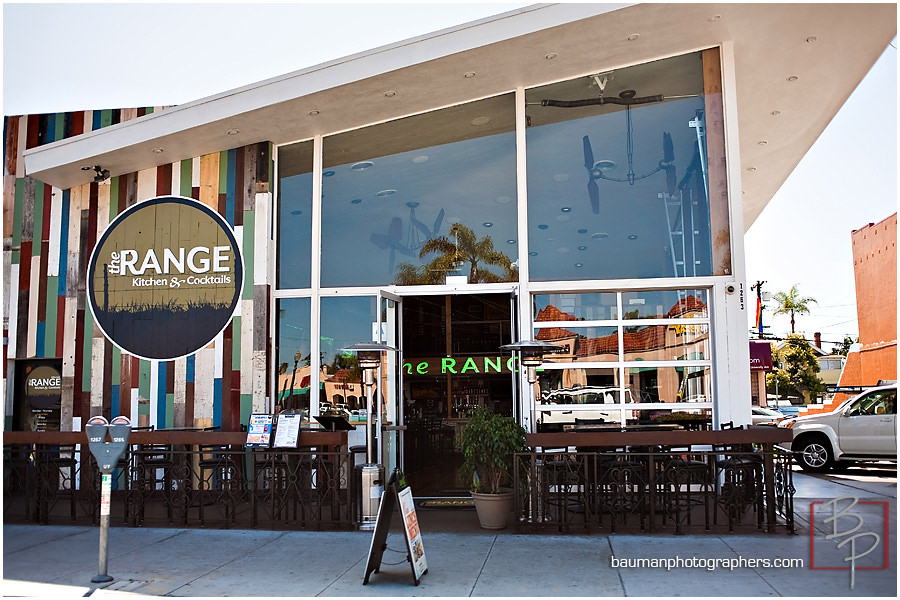 First of all thanks to everyone that has weighed in with recommendations on places for us to go to lunch. We try to keep it fresh and not
just rely on online reviews. It's fun to hear about places that our friends like to go. This week we went to The Range based on a recommendation on the fan page. The Range is in Hillcrest right on University so it's in a very easy to find location. The restaurant is in a cool building with a slanted roof. The inside is also very interesting. The ceilings are super high and there is lots of decoration that goes with their farm theme.  The parking lot is also very cool. It's next to the Ruby Room so there is a Wizard of Oz mural on the walls outside.
The lunch menu was affordable, there were burger combos as well as grilled cheese combos under $10. The guys went with the burgers and Sarah went with the grilled cheese. I went with the regular menu and got the Range Burger. I figured I would try what they put their name on. The Range Burger was $14, I typically don't like spending this much on lunch, but I had to give it a try.  I was pretty happy with my burger. It came with brisket and a fried egg and it was pretty tasty. However I was the only one that walked out happy. The guys and Sarah all agreed that the food was not very good. It might have just been their lunch menu but they felt that it felt like cafeteria food. Bronson said that the hamburger meat felt like it was on a warming tray before it was prepared and that it did not have much flavor.
I don't know if they use different ingredients for their lunch menu or if the cooking process is different but I'm the only one that ordered off the regular menu and I'm the only one that walked away happy. We probably will not be returning to this place for food, it's a cool looking place it's too bad that it was disappointing.
At least we got some cool lunch photos. This week we tried to work with reflections.