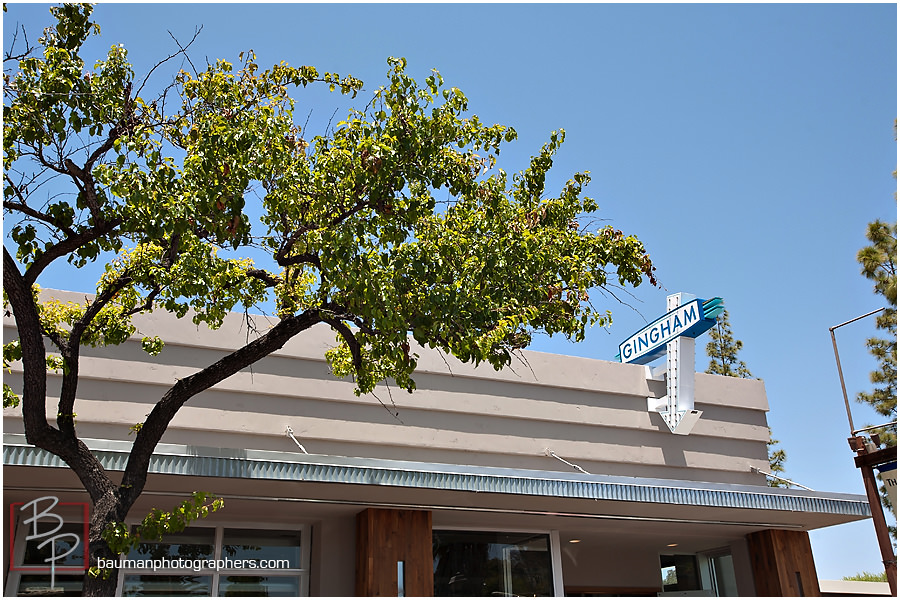 Guest Blogger – Zachary Good, Web Guru and All Around Great Guy.
Jared was scheduled to take some kitchen remodel photos for my family, so he and the Bauman Photographers crew were kind enough to move their weekly lunch a little farther east this week. We met at Gingham (http://www.ginghameats.com/) in La Mesa, one of Brian Malarkey's more recent San Diego restaurants. I got a chance to meet Jared's sister and her fiancé, and everyone had a chance to let my mother charm them.
The first time I ate at Gingham, I had no idea what to expect. Malarkey's other restaurants (Searsucker, Burlap, Gabardine) are pretty high up on the "hip food" meter, so what would they bring to La Mesa Village, the home of antique shops and San Diego's largest Oktoberfest? How do you introduce revolutionary flavors and a trendy atmosphere to East County without scaring off the cowboys and octogenarians?
Apparently, by serving good food and decorating it like a Texas roadhouse.
I didn't know how to describe the food when Jared asked about it. I think I used the phrase "BBQ Fusion." They call it an "Urban Cowboy Diner" and that seems to sum it up perfectly. If you look up when you walk in, there's a cow statue painted with the American flag. We ate next to a photo of a girl riding a cow jumping over a fence. Cow skeleton chairs in the entryway. Lots of cow.
The food took ideas from your standard BBQ menu and spiced them up a bit. At least half the table ordered the tri-tip melt, a delicious meat sandwich with jalapeño jam and a cheese I can't pronounce. Someone ordered Gingham's version of nachos: homemade potato chips with smoked salmon, fried capers, and a chipotle cheese sauce that looked amazing.
All in all, it was a great place for lunch, and they handled our table of 10 with no problems whatsoever. One tip – if you have a tendency to fall off of slippery metal barstools, like my mother, request one of the wooden ones.
Check out thephotos from San Diego's fun photography team.