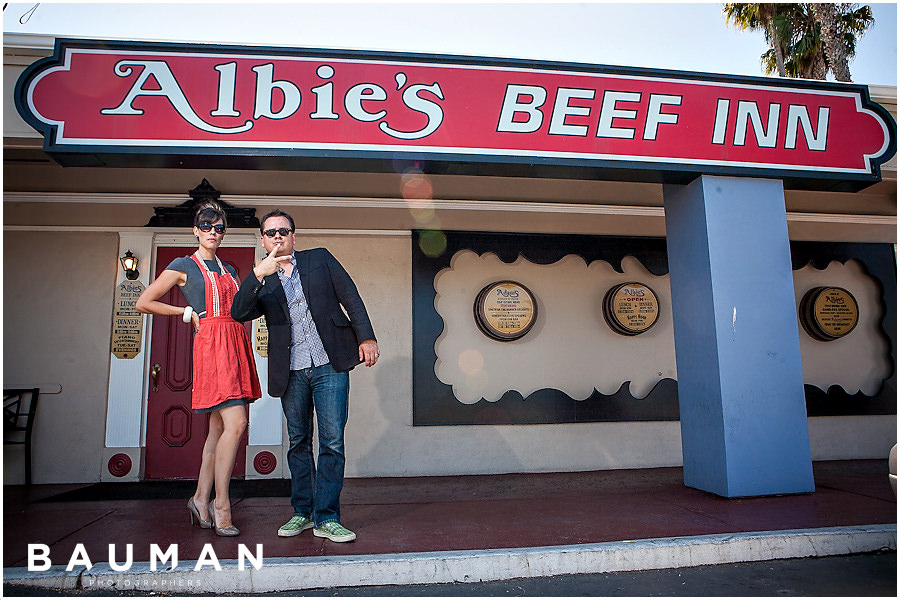 This place is old school, and so cool. But let's get one thing clear: Albie's Beef Inn is more than a steakhouse. It's a time machine. When you step through its big red door, you step into the 1960s; the bar gleams with classic cocktails, and the walls are paneled in dark wood and polished black stone marbled with gold. The seats are cozy, cushy leather studded with brass rivets, and the staff is super friendly. There's also a gigantic blue marlin hung over the fireplace, who keeps a watchful eye on the dining room to make sure everyone's staying classy in San Diego.
But the amazing atmosphere is matched by delicious, hearty flavors, from sherried mushrooms and marinated artichokes drizzled in butter to thick and juicy steaks served with a sweet carrot and stuffed potato. Make sure to also grab something to drink; their expert bartender has been making perfect Old Fashioneds since they were New Fashioneds.
So, grab your best time traveling outfit, whether that's perfect 1960s glamour  — or a feather boa and goggles — and treat yourself to some Albie's!