The no-fail way to look uh-mazing on your wedding day? Surround yourself with a really, really ridiculously good-looking posse. But for real! Making sure your bridal party looks their best will elevate the whole look of your day. Our brides have impeccable taste, and it extends beyond their own stylish choices for themselves — polished, happy bridesmaids will make you look stunning!
There are so many choices when it comes to the look of the bridesmaids, and we just have to share some of our past ladies' flawless style. We've rounded up the most glamorous of our bridesmaids to provide some inspiration for helping your BFFs look fantastic on the wedding day!
---
First, we're a true fan of the floor length dress. You just can't go wrong! Every girl looks amazing in a long soft gown, and it adds just the right touch of glamour to any wedding. If you're not throwing a black-tie formal affair but want to keep it elegant, then you can pick a color that will pair with your particular wedding style.
For example, we love these long, navy gowns Becca chose for her ladies in her Omni La Costa wedding. Set against the crisp, white backdrop of the venue, these ladies stand out! We love the styling details that keep these ladies looking glam and classic: the soft curls, the white florals, the occasional personalized accessory – all perfect choices.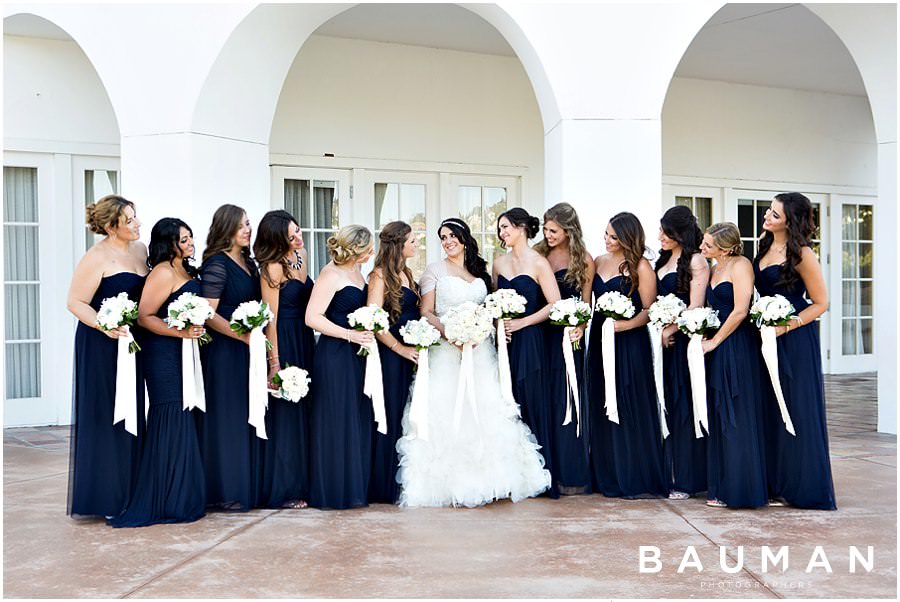 If you want to really make your maid of honor feel glamorous, there's no better way than with a long, gold gown like the one see in Gabe and EmyLou's wedding at The Prado in San Diego. Though the MOH is in a different color, we love the forethought in coordinating dress structure, from the waistline to the sweetheart neckline.
We adore Emylou's choice in silhouette for her ladies, keeping it simple and flattering for everyone, and that she left room for each to personalize their looks with differing hairstyles and use of the chiffon straps. This bride took care of her besties and it makes her shine even more!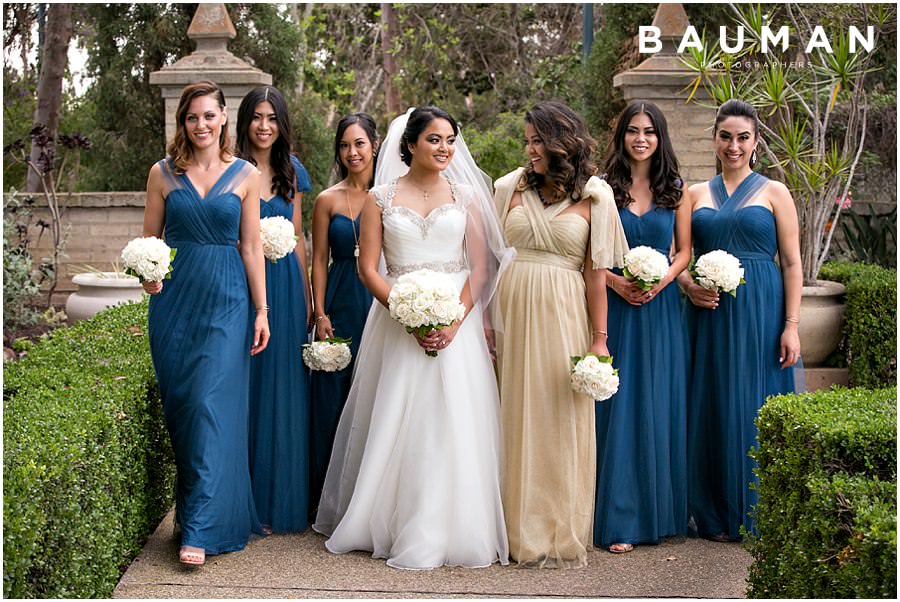 We love the idea of letting your bridesmaids choose their own dress styles from a suite of options or within the same color palette. It's a trend that has been growing in popularity over the last few years, and it allows your ladies to choose a dress that really suits her personality!
Our bride Ali nailed this concept for her wedding at The Thursday Club by allowing her girls to choose a gown in summery shades of rose, coral, and cream. You can still keep it luxurious while making each girl look fabulous! These looks are full of everything we love about a glamorous wedding: lace, bits of sparkle, gold, and plenty of movement! Can't you just picture these ladies twirling in these gowns as they cut a rug at the reception?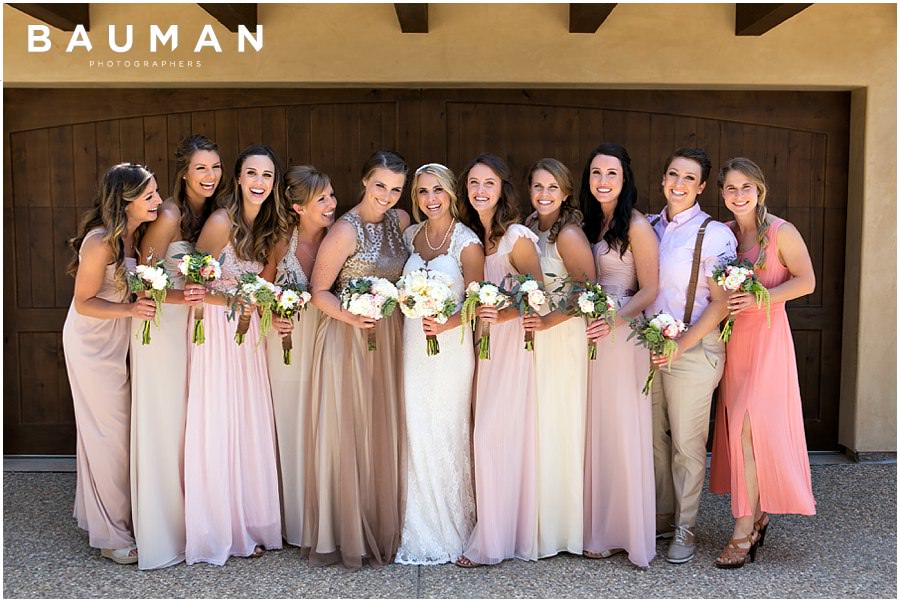 Our bride Shayna also earns a gold medal for bringing the heat with these unique bridesmaids gowns for her Scripps Seaside Forum wedding. Where do we even begin? We've got champagne sequins in the back, a killer slit in the front, and a mix of light and dark gowns all around.
It's as if Shayna wrote all the aspects of what makes for a fabulous look on little pieces of paper, threw them in a fish bowl, and then asked her ladies to draw. If we're talking about complementing each other, then this wedding is straight up #goals.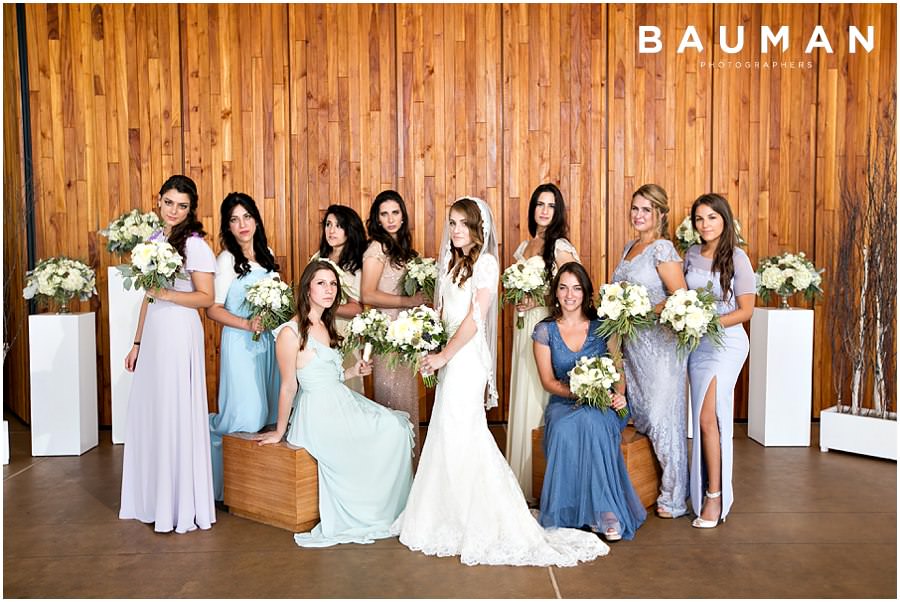 It's no secret that we love a long gown, but sometimes a lady has got to show off her amazing legs. And not to worry – shorter dresses CAN be glamorous and elegant, too!
We love, love, love how Jana styled her ladies for her wedding in Piedmont, California. Pair a classic dark navy with some intricate lace, and you have a winning combination that looks smokin' on every lady. And every girl knows that the secret to elongating your legs is a killer set of nude heels, and these bridesmaids right here are proof of that matter.
The sleeveless high neck and empire waist is a classic cut that works with so many body types. Remember, if your ladies are feeling their looks, it'll be to your benefit, too! You'll look stunning standing next to a confident crew of women, and who knows… maybe they'll love you even more for choosing dresses that they really WILL wear again after the wedding day. Just look at them strutting their stuff!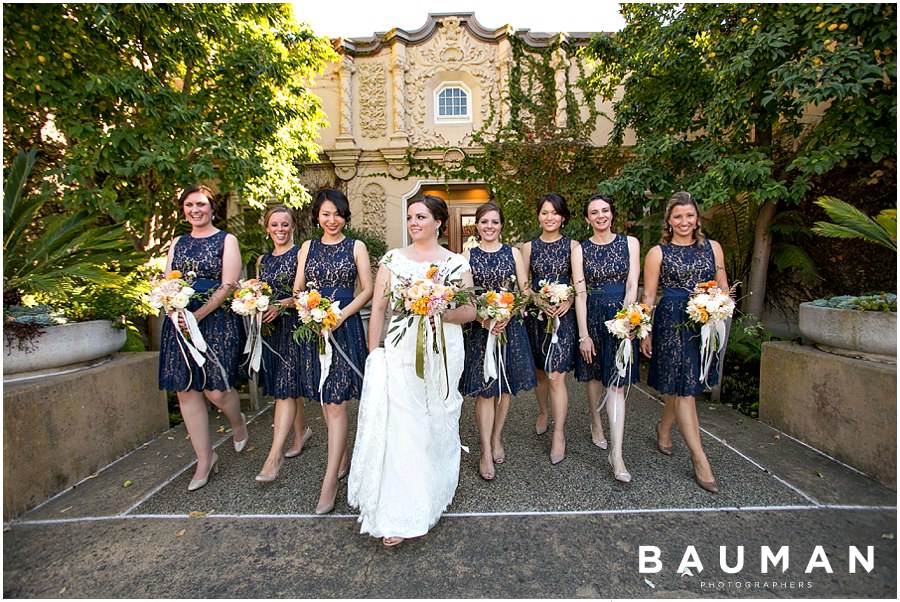 The bridesmaids (and brides-dudes) in Amy and Anthony's Coronado wedding struck gold with these classic black numbers. We love the contrast of the long-sleeved lacy arms with those baby-doll skirts – these ladies know how to show just the right amount of skin to walk that sexy-glam-classy line.
And check out those patent leather black heels! That shoe will never NOT be a staple in a girl's closet. Work it, ladies!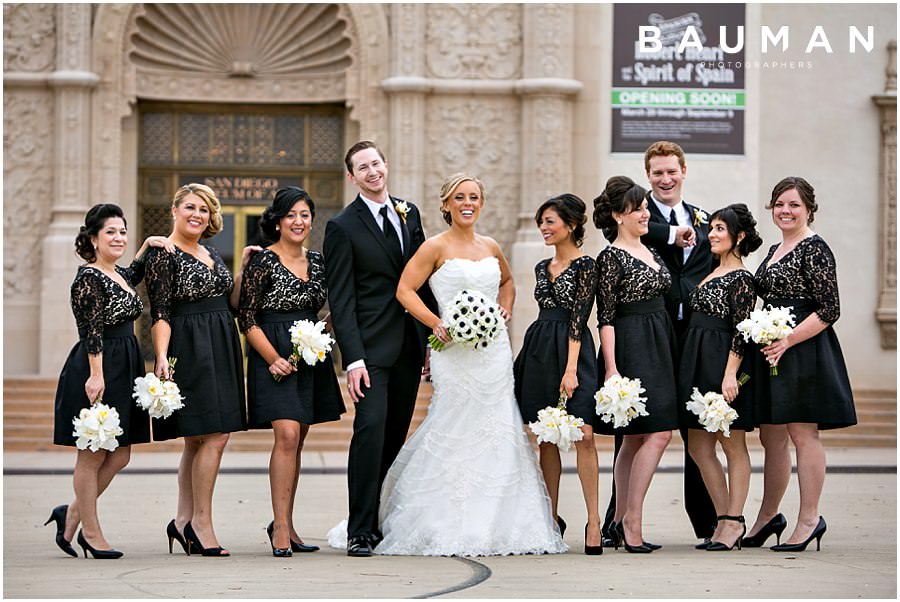 For a look that is both chic and sweet, Justine chose these beautiful black dresses in a soft chiffon fabric. The fabric moved SO elegantly as these ladies strutted their stuff at this Cafe Pinot wedding, and each girl looks gorgeous in her sweet dress. We loved the simplicity of these dresses, and you can tell by these ladies' smiles that they feel comfortable and confident in their looks!
Paired with these handsome groomsmen, this was truly a black-tie affair to remember!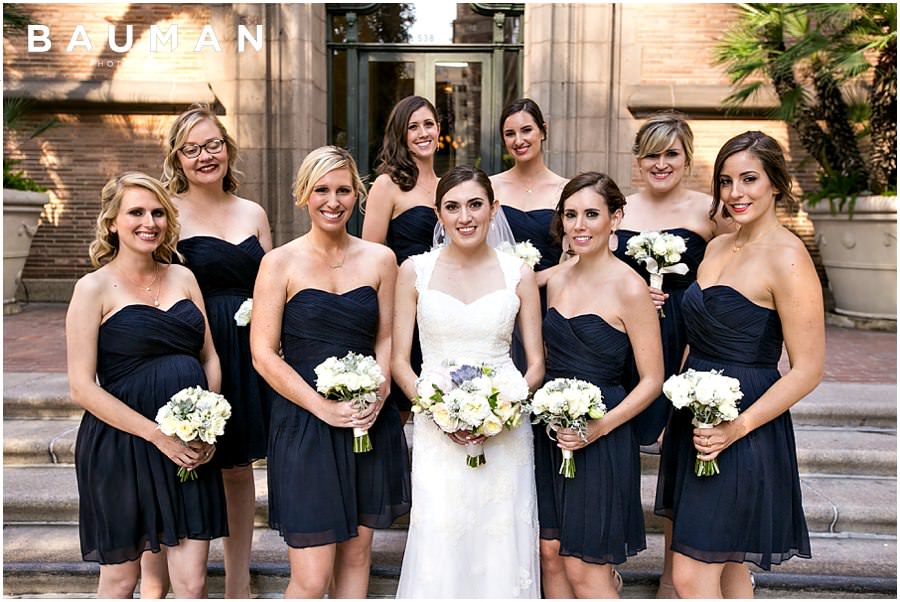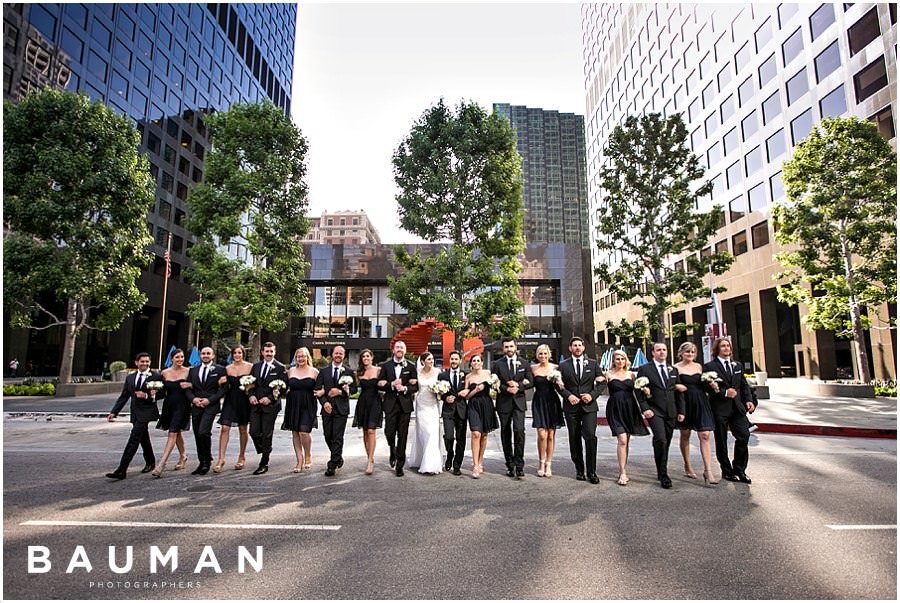 We hope this bridesmaid inspiration brightens your week as much as it does for us! Stay fabulous, ladies!