You've probably heard the stories from both sides: the magic of seeing each other for the first time at your wedding ceremony when you walk down the aisle, OR the perfect intimacy of getting to see one another in private before your ceremony – what we like to call the First Look. As your wedding day is approaching, we wanted to take a minute to share why we LOVE the First Look, and why we think you will love it just as much!
There are several ways for a photographer to approach the First Look, and one of the more common approaches is to see the First Look as a logistical benefit. Because you see one another before the ceremony, you will have a lot more time for amazing photos, you'll get everything done before the ceremony, and you'll get to go straight to the cocktail hour after the ceremony.
While all of this is totally true, here at Bauman, we approach the First Look much differently. We see the First Look as having an enormous emotional advantage for our wonderful couples, not just a logistical advantage.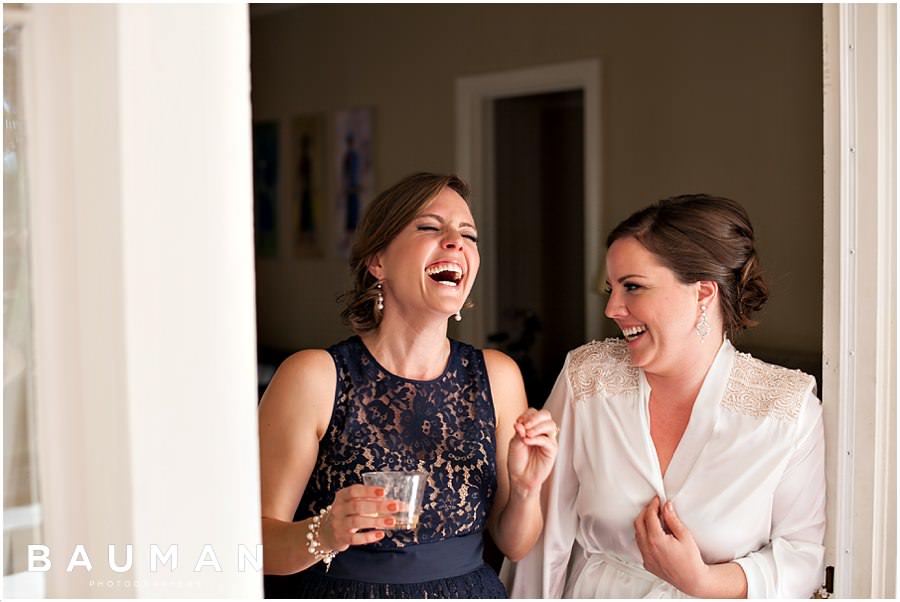 Imagine this: you've been buttoned into your fabulous gown, every hair is in its place, and your makeup is flawless with that perfect winged eyeliner that makes your eyes just POP. You've popped the cork, and are sipping on some champagne with your BFFs. The beloved guests are still en route, the florist is putting the final touches on the ceremony site, and the caterer is whipping up your delicious entrees. Your favorite day is just beginning, and you're bubbling with excitement!
However, from our experience of walking with so many brides and grooms through their wedding days, most of the time this excitement is actually punctuated with nervousness and sometimes even anxiety. The pretense of not seeing one another can cause a build-up of emotions, which makes it hard for our couples to relax and enjoy all of the amazing moments that they are spending with their friends and family pre-ceremony. It's particularly prevalent for couples that might not like being the center of attention.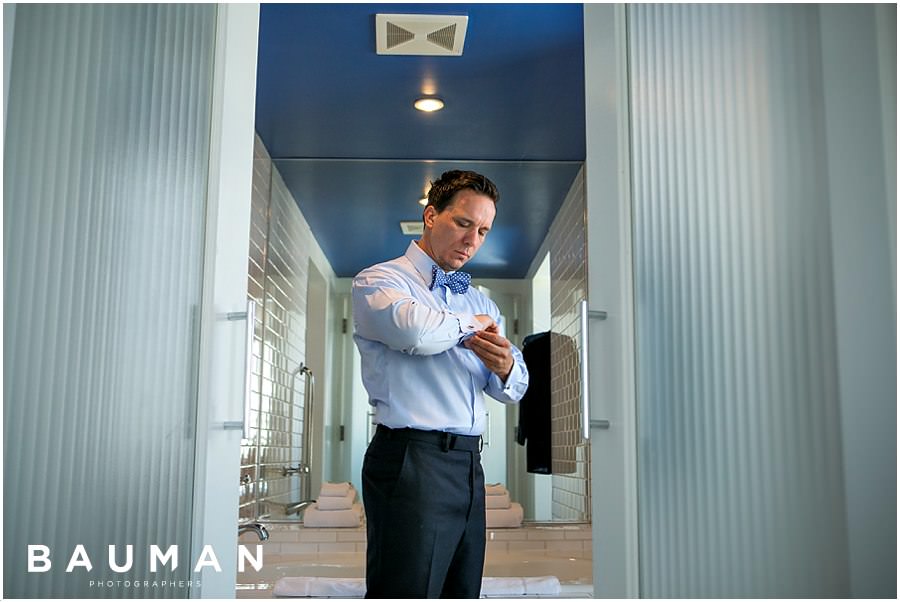 For the First Look, we will pick a beautifully lit location that is completely private – far from your guests or wedding party or family. Your groom will be set up with his back turned to you, looking as dapper as ever in his tuxedo.
We'll set you up a few steps behind your man, and then we'll back away to give you space as your groom turns around and sees you standing there, looking like a bombshell, for the first time.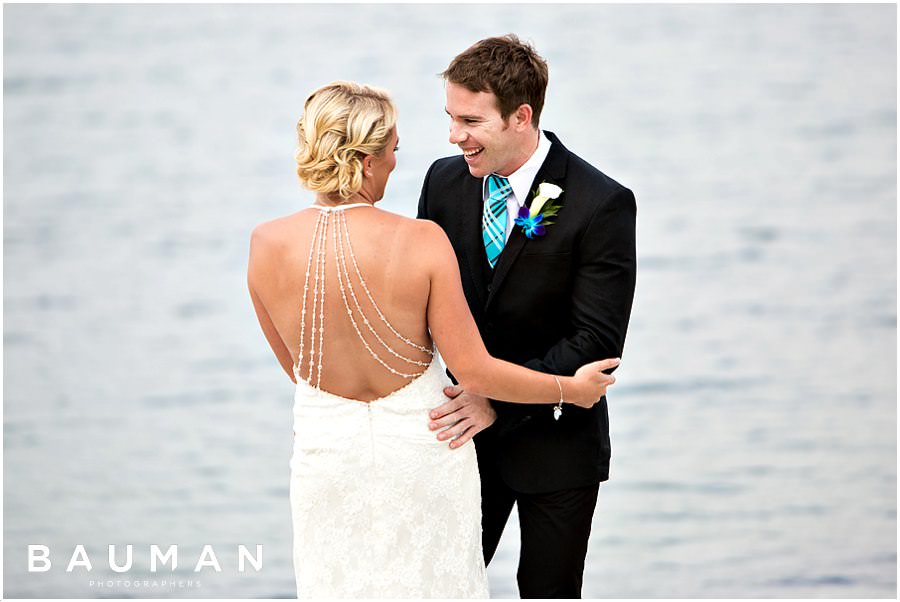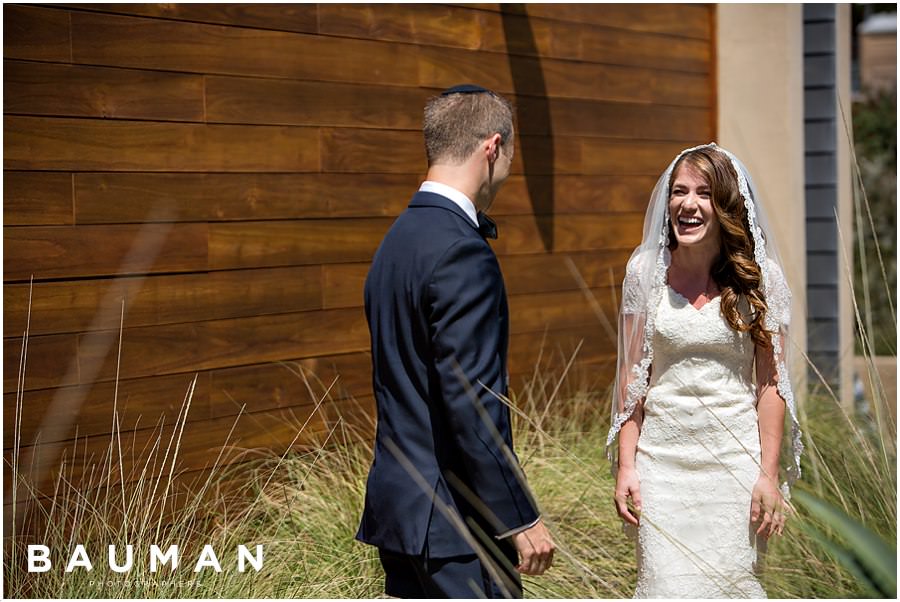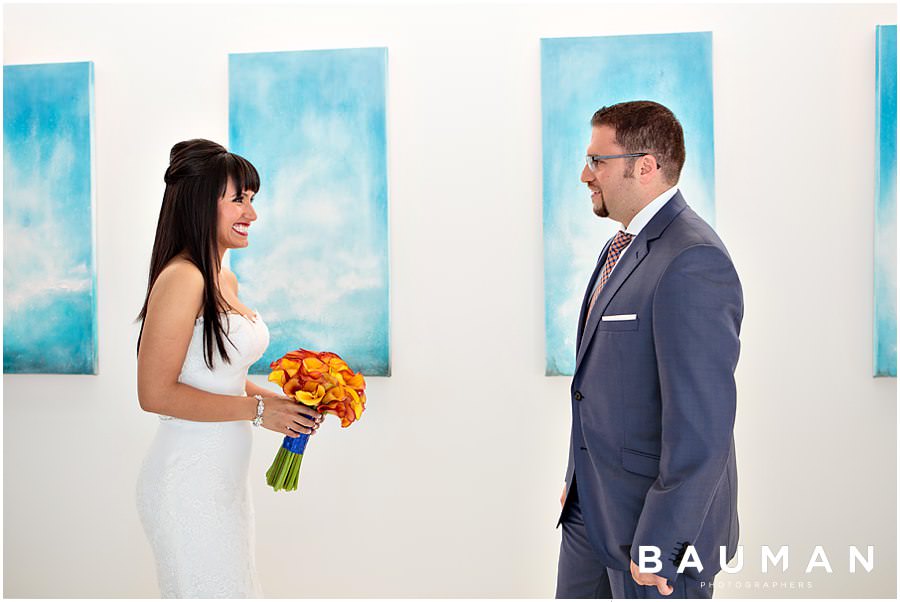 That moment is then all about you guys! You get to hug one another, do a little jig in your dress, give some high fives, and soak in the realization that you're getting married today! You get to hear how her morning was with her girls, and tell him how well he cleans up in that handsome suit of his.
We'll be capturing all of those tender and candid moments from afar, so you can experience those emotions without reservation. Then we will photograph the two of you while you're looking and feeling your absolute best! Your First Look wedding photos will be some of the most cherished ones from the day!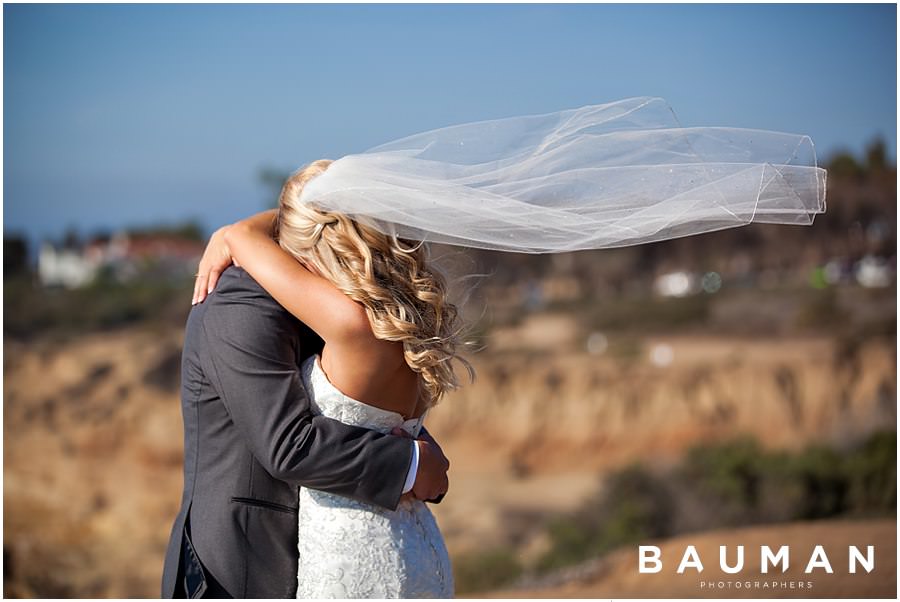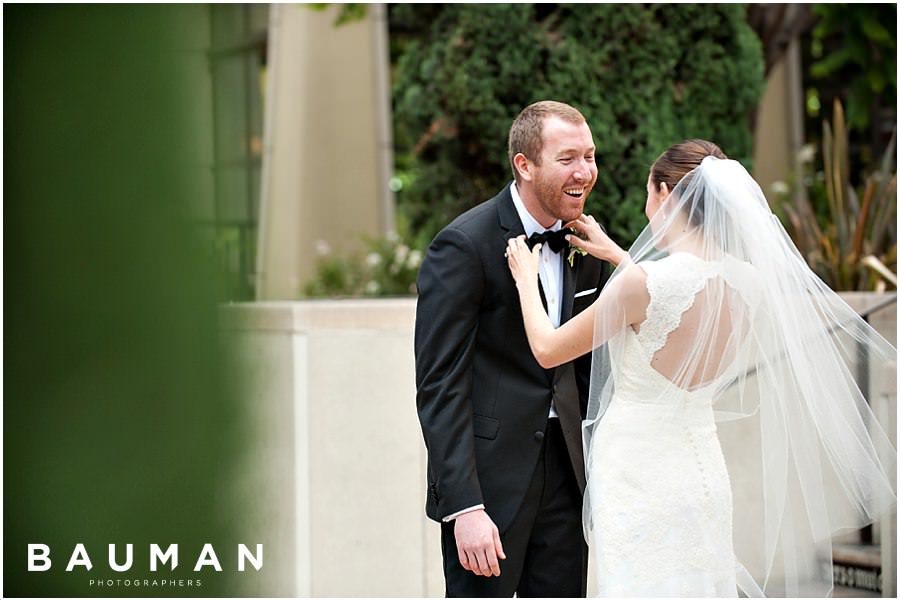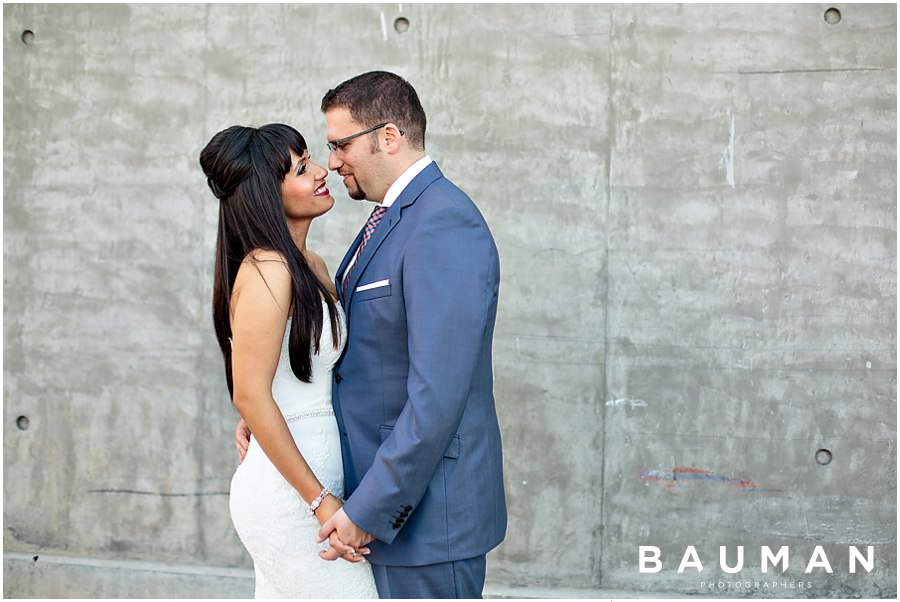 It's all completely private, and completely yours. And the best part is that you then get to hang out together for the rest of your wedding day! Who wouldn't want to spend the best day of their lives with the one they love most?
A First Look allows you more opportunity to savor all that's special about this day because you are more relaxed. In fact, many of our couples comment that the walk down the aisle was MORE special because they could look around at their guests and take it all in without any nervousness getting in the way.
Brides – you are still walking down the aisle to marry the man of your dreams. Grooms – you are still watching that gorgeous girl of yours come towards you to say 'I Do'. Absolutely nothing can replace the true significance of that moment – not even a First Look!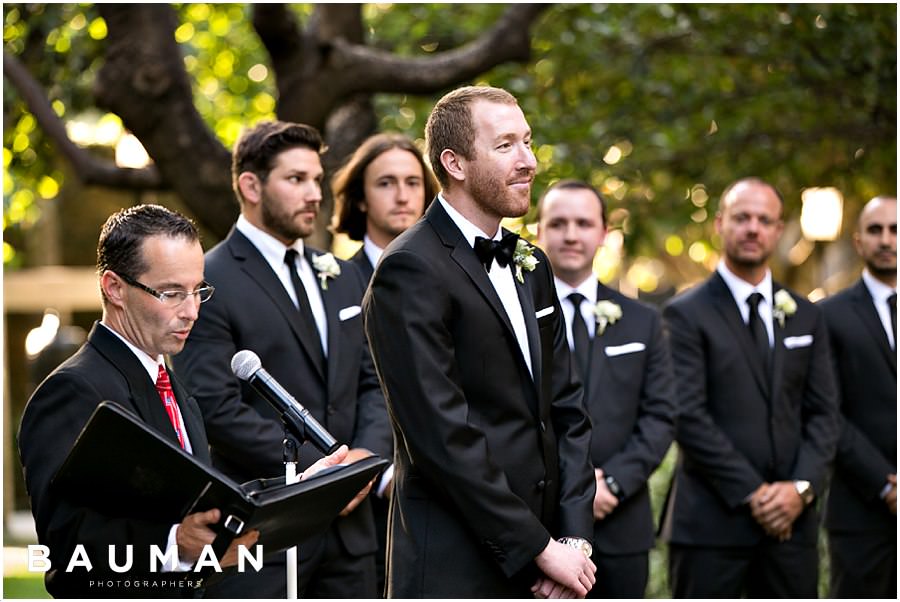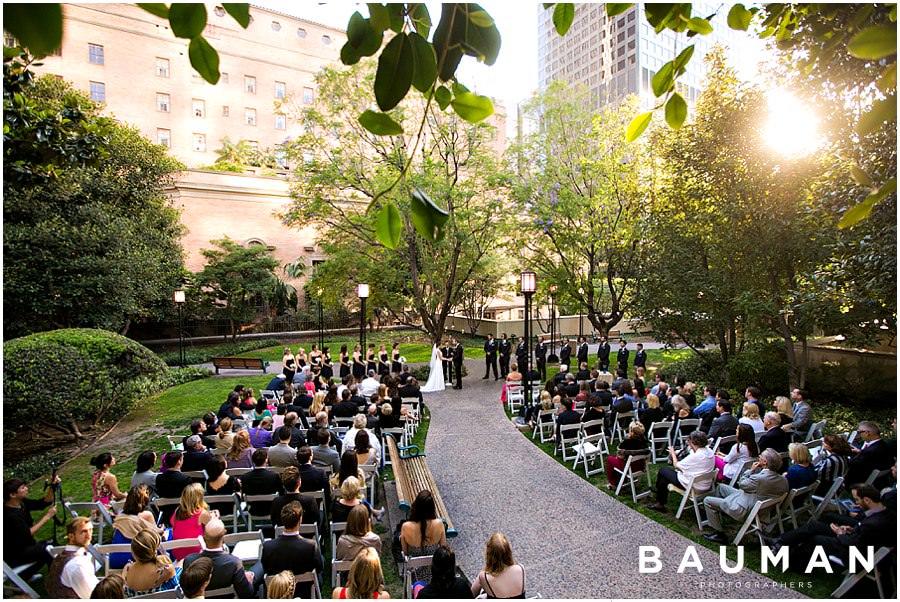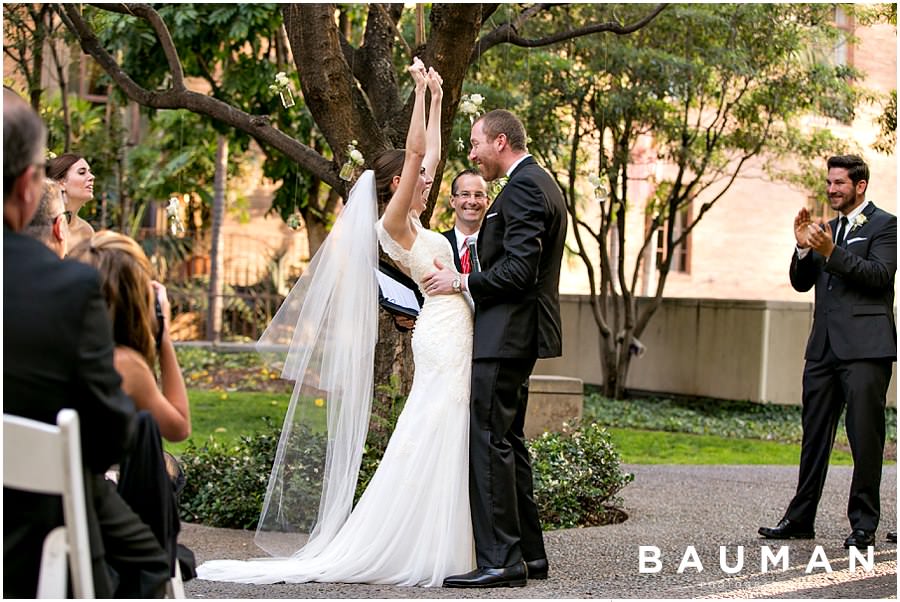 Because we're able to take the time to gather your family and wedding party for portraits before the ceremony as well, we don't need to spend time on those during your cocktail hour. Have you always envisioned portraits with your new husband in that gorgeous post-ceremony twilight glow? There will be plenty of time before heading into the reception to capture some canvas-worthy images because you've done a First Look!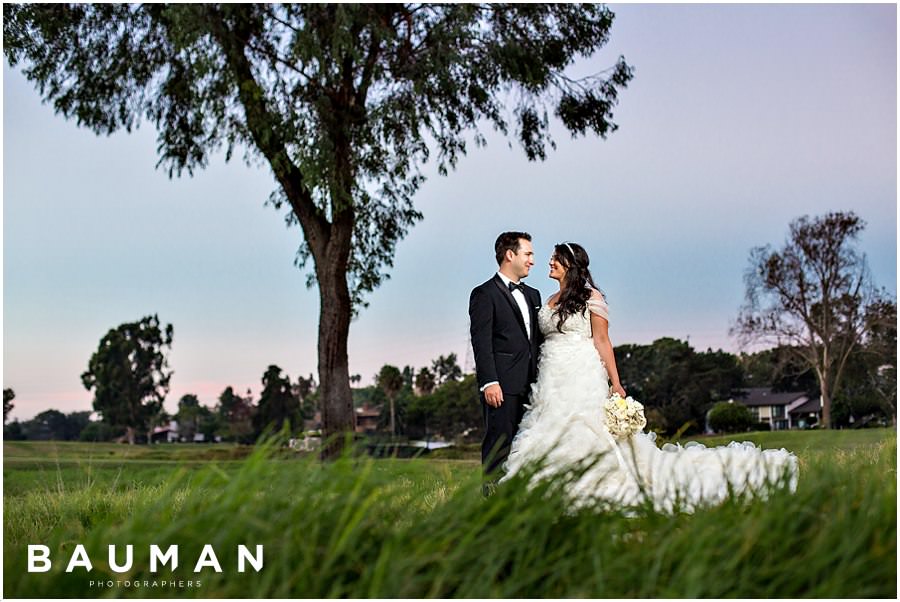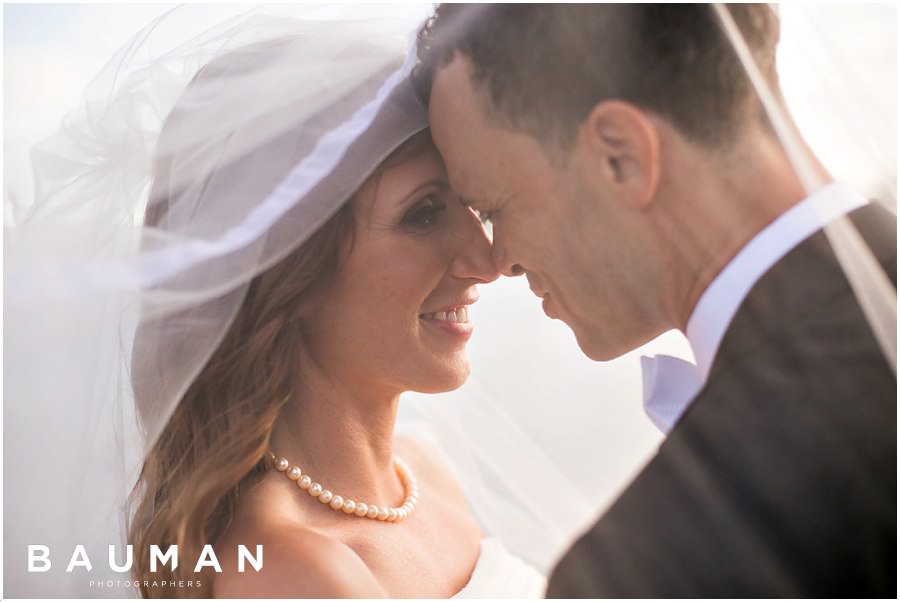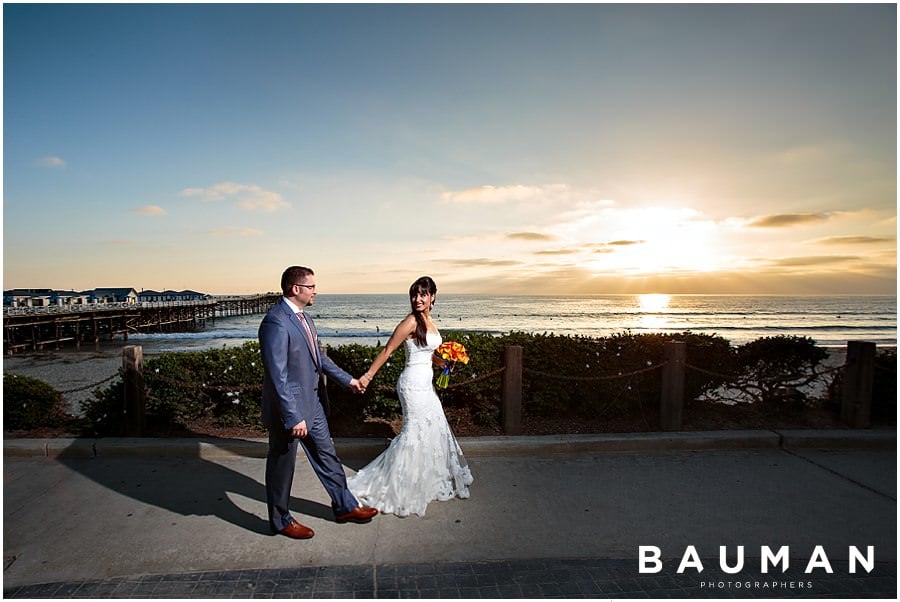 Are you looking forward to greeting your guests at cocktail hour? The good news is – you can! If you can't wait to catch up with your old college roommate or your cousin from out of town while enjoying your signature cocktail, the First Look allows you to do that.
Or perhaps you want to sneak away with your husband to rest and reset together before greeting your loved ones at the reception. You can choose to either join your cocktail hour to greet your guests and munch on your delicious appetizers, or you can take some time to rest and refresh before the reception.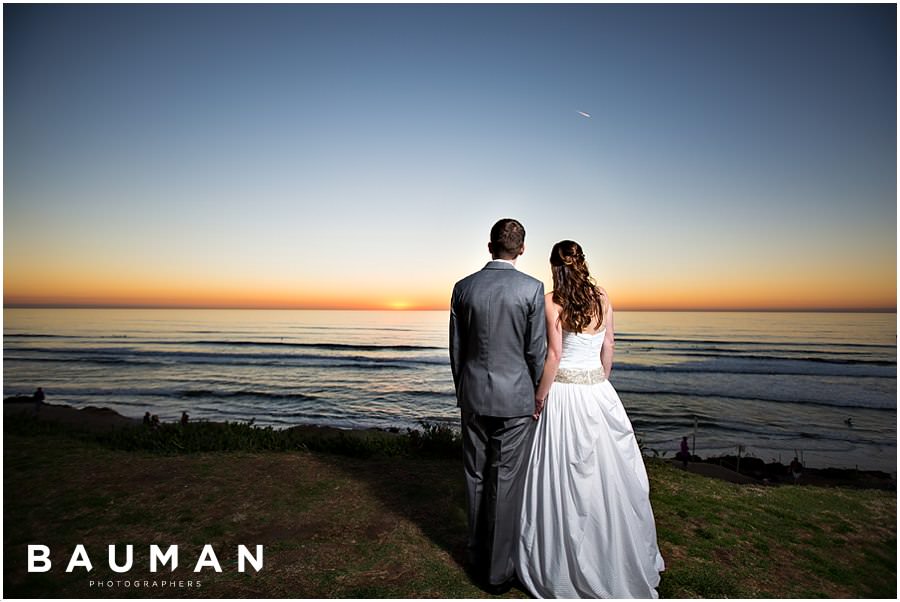 Whatever your desires for your day, having a First Look allows for flexibility in making your dreams come true… all the while holding your partner's hand and dancing through it together.