[social_warfare]Before we begin, we have to tell you that we've been there. Pulling outfit after outfit from the closet, wandering the mall with a vague-but-vital picture in our heads of the perfect 'look,' bringing our men BACK to the mall and using what precious little time we have to outfit him before he tires of the shopping… Girl, we feel you. There is no shortage of sympathy from us as we help our couples pick the best outfits for their engagement session. The outfit selection portion of the photo session experience can be one of the difficulties. BUT it doesn't have to be.
We've seen enough outfits that work and don't work over the years, that we believe we've cracked the ultimate code for our couples. In fact, we've finally come up with a 'formula' that any of our couples can follow so that they'll be perfectly outfitted for any shoot with us:
Girls: Cocktail dress + one cute accessory + stilletos = BANGIN'
Guys: Tailored jacket + one great accessory + well-fitting pants = SMOKIN'
If you follow these basic formulas, you'll be in perfect shape to land in front of our cameras looking chic, confident, and stylish. We creatively connect with outfits that allow you to feel glamorous and dazzling, because let's face it – your love story itself is dazzling!
Of course, there are so many variations on this formula, that you can use your particular taste and personality to make the shoot feel like 'you guys.' We've picked some of our favorite outfits that our couples have rocked for their engagement shoots to give as examples.
---
If you're looking to channel some red-carpet glam for your engagement session, then take some notes from Tanya and Cameron. For their Anniversary Session in the Gaslamp Quarter, their outfits were perfectly chic! We LOVE glitz – and how much is our girl Tanya rocking that full length gold sequin gown?! Who needs accessories when you have gold sequins, amiright?
Her styling is right on par with big, soft curls and impeccable makeup. Tanya's strong red lips and matching red nails are just the right kind of confidence and sexy to go with her statement of a gown. This girl's confidence is beaming!
And check out how good our main man Cameron looks standing next to his lovely wife! He looks dapper in his well-fitted suit, and those subtle hints of red tie the whole ensemble together perfectly. From the handkerchief to even his shoelaces, he understands the art of coordinating over being matchy-matchy. They look ready for the runway!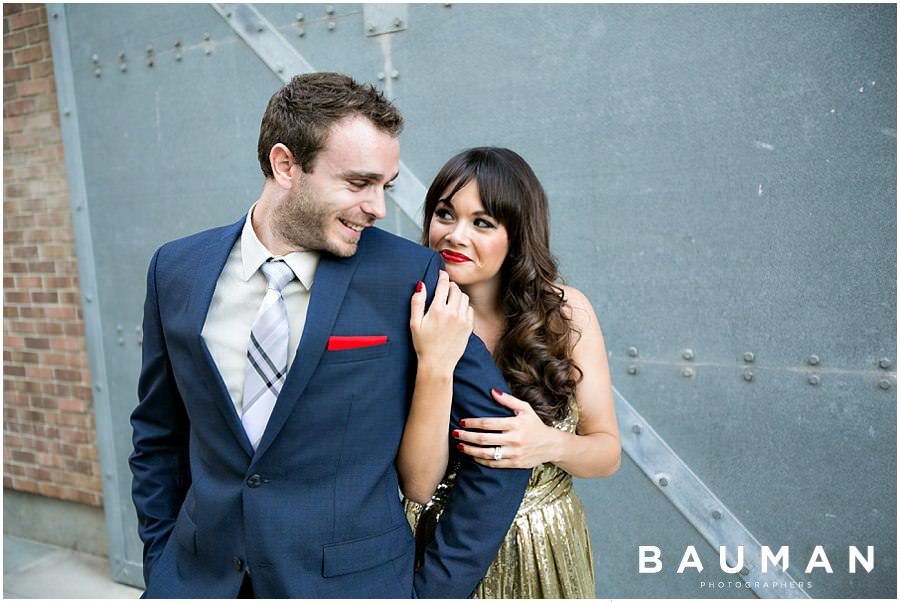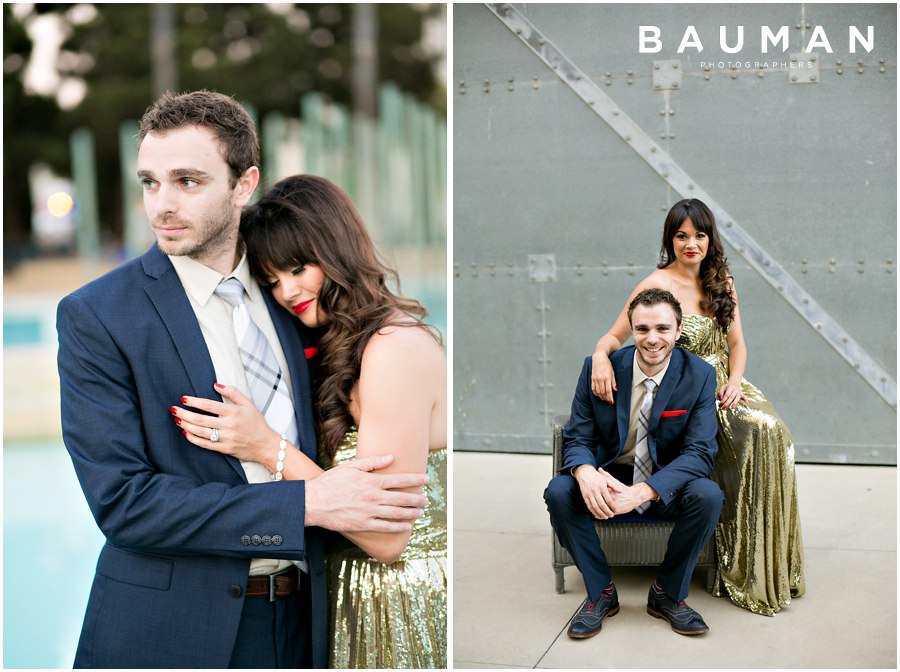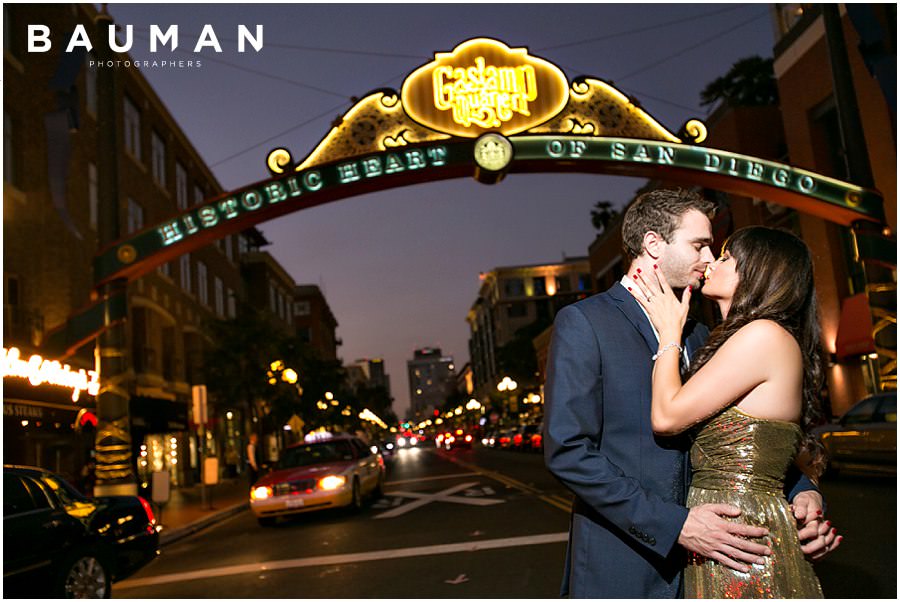 ---
EmyLou and Gabe looked absolutely stunning in classic, tailored pieces during their U.S. Grant Hotel Engagement Session. This couple is the definition of urban elegance! Who doesn't look amazing in a well-fitted black suit? You just can't go wrong, and Gabe is no exception here.
EmyLou channelled elegance with a classically-cut tea length dress, but showed her chic personality with the combination of textures found in the dress. The simple cut allows the fabrics to speak for themselves!
We like to stress the importance of coordination over matching perfectly, and these two totally nailed this concept. They both chose outfits with crisp, clean, and well-tailored lines, and it only highlights their compatibility! Gabe's tie doesn't overtly match EmyLou's skirt or gold belt, but rather subtly hints at her outfit. We just can't stop gushing over these two!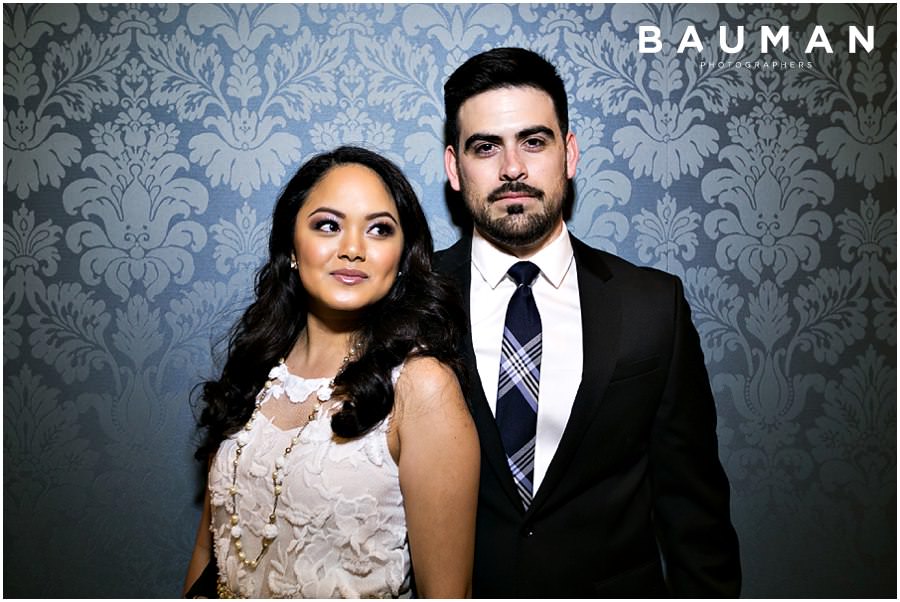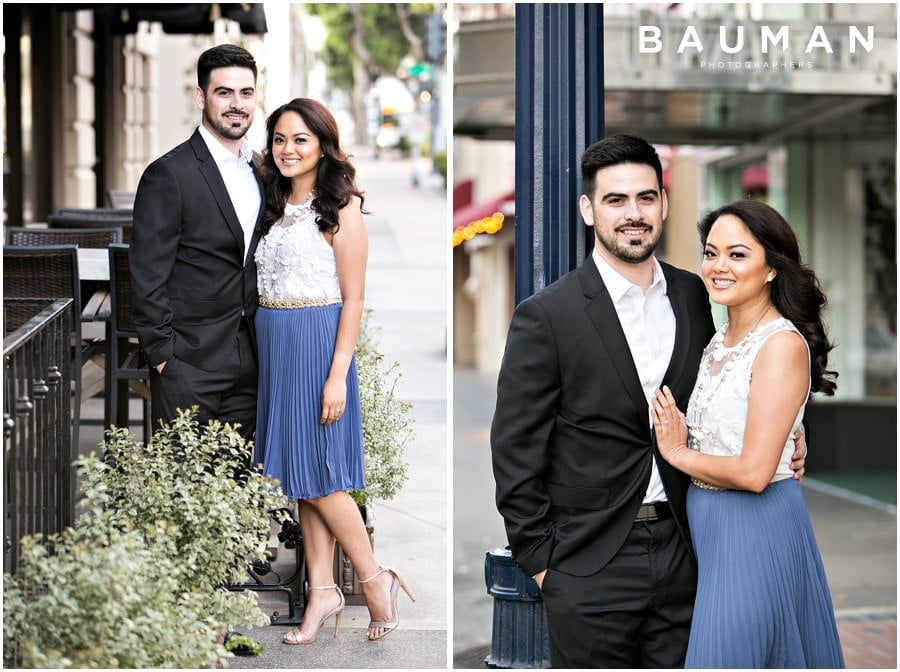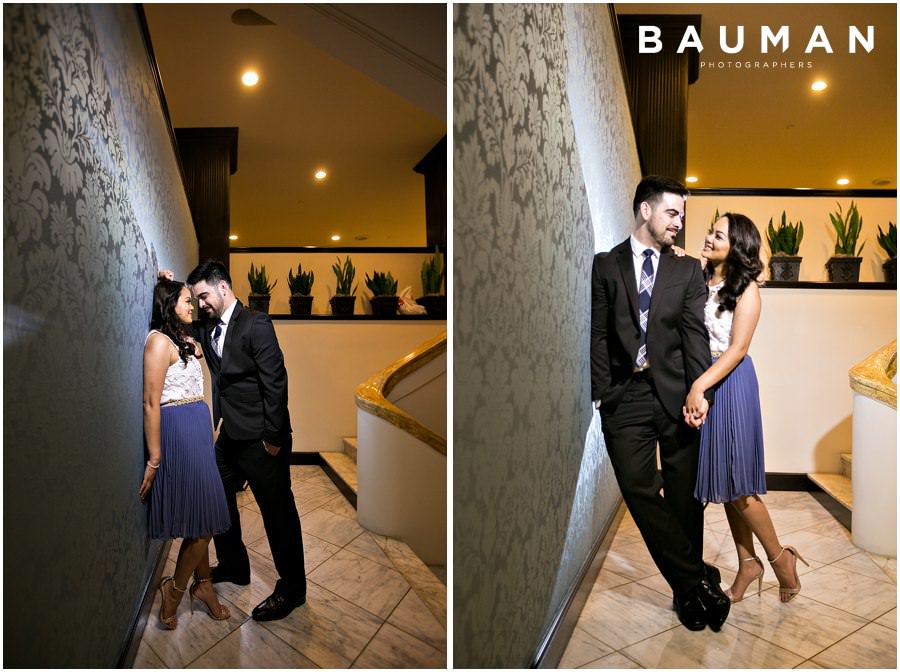 ---
So, maybe you're not a gowns-and-suits sort of couple. But with the right set of heels and accessories, you can still put together outfits that are perfect for a night out on the town! We loved how Amber and Adam put together a look that transitioned from a casual kind of sexy to a night-out-on-the-town kind of sexy.
They started their Gaslamp Quarter Engagement Session with a look to suit the happy-hour scene, and it totally emulated their fun and flirty personalities. Adam kept things neutral with well-fitted jeans and a more casual, quality tee: a perfect fit for grabbing a drink with his best girl on Friday night. We loved Amber's gold accessories in her top – jewelry that even coordinated with their cocktails! And those ankle boots? Yeah. Killer.
The boots made their way through the night when Amber changed into a sleek little black number that looked so chic against the city lights. Adam's thin black tie coordinated well in color and in keeping with their trend-setting vibes. We just love this city-date-night session!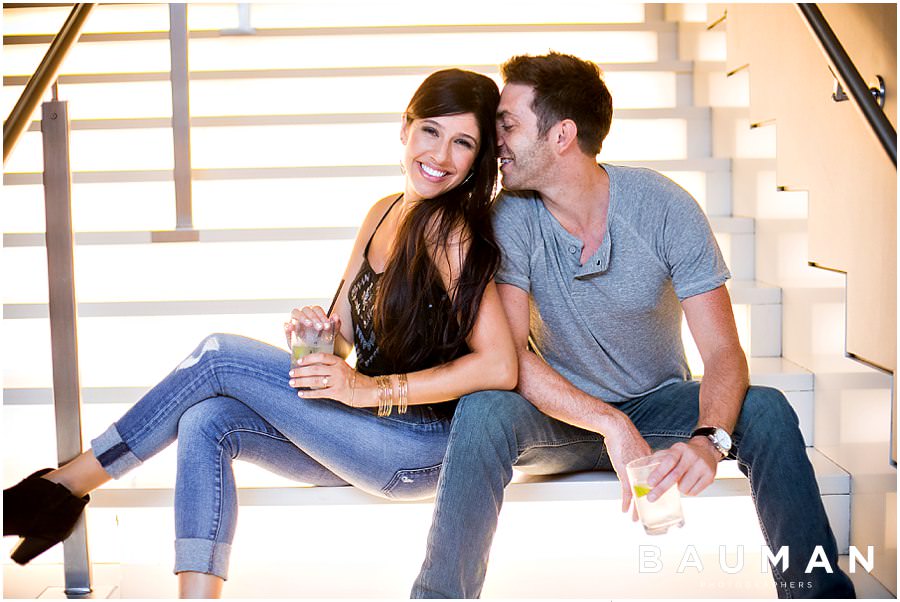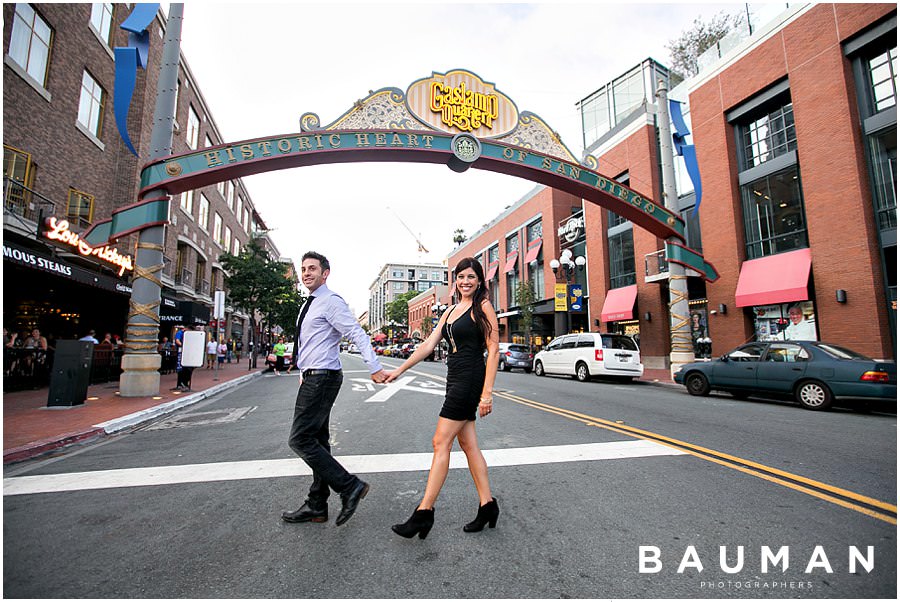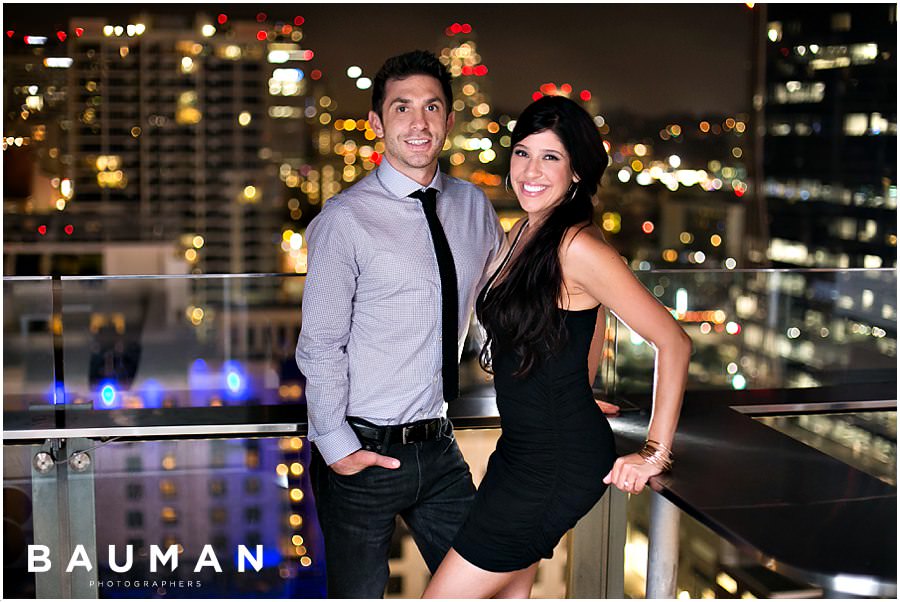 ---
Alexa and Matt proved in their Mission Trails Engagement Session that you don't have to be in a downtown metropolis setting to rock some urban, chic threads. You can tell through their choice in neutrals that these two were conscious of their rustic surrounding, but that's where the country vibe stopped.
Alexa looks like she just walked off 5th Avenue with her classy, patent heels that show off her stunning legs. The understated black earrings and black detailing on her shoulders takes her whole outfit from country simple to stylish and trendy city… even in the outdoors!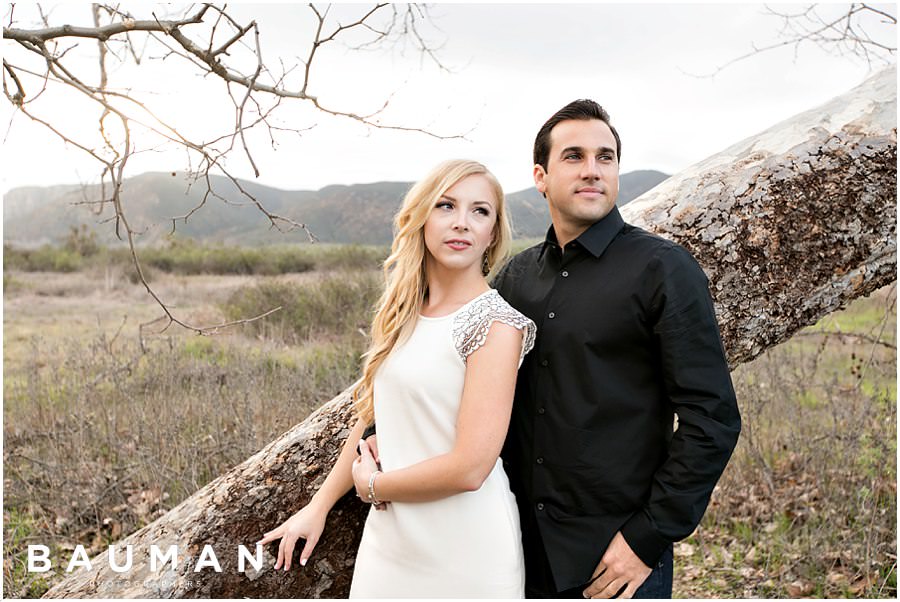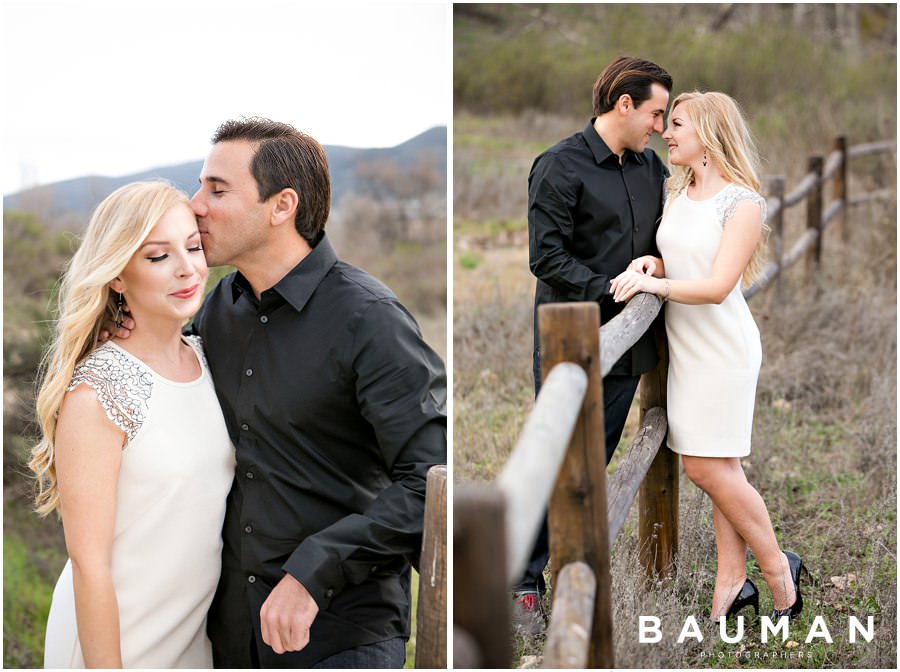 ---
We can't wait to see what you pull together for your engagement session! Stick to the formula, and find ways to incorporate your personalities with color choices, patterns, and cute and classic accessories. You'll look STUNNING in your photos, and truly capture "you guys"!