Leveling Up THeir Online Brand
Jeff and Erin Youngren have been luxury wedding photographers since 2006, traveling the world and shooting high end weddings for more than 15 years. In 2012, they began educating other wedding photographers on how to run a successful, life-giving business, and began to sell valuable business resources online that they had created to streamline their own business. Over the past decade, they've built a heartfelt reputation with a loyal following of photographers that deeply trust their courses and online products – resources that help photographers build profitable, sustainable businesses.
While weddings and travel were on pause in 2020, Erin took the opportunity to create her dream course – an 8 week business intensive geared specifically for wedding photographers that were ready to level up their brands and transform their businesses from the inside out.
Erin needed a suite of branding images to help her build her online presence and launch her signature business course during the global pandemic.
Being photographers themselves, Jeff and Erin knew what they needed and wanted to take on this massive launch, and our team is the only one they trust with their online brand.  During our meetings with them, Erin clearly expressed that she wanted an on-location lifestyle session, as well as an in-studio branding session to create images for both social media plus online landing pages, sales pages, and marketing ads.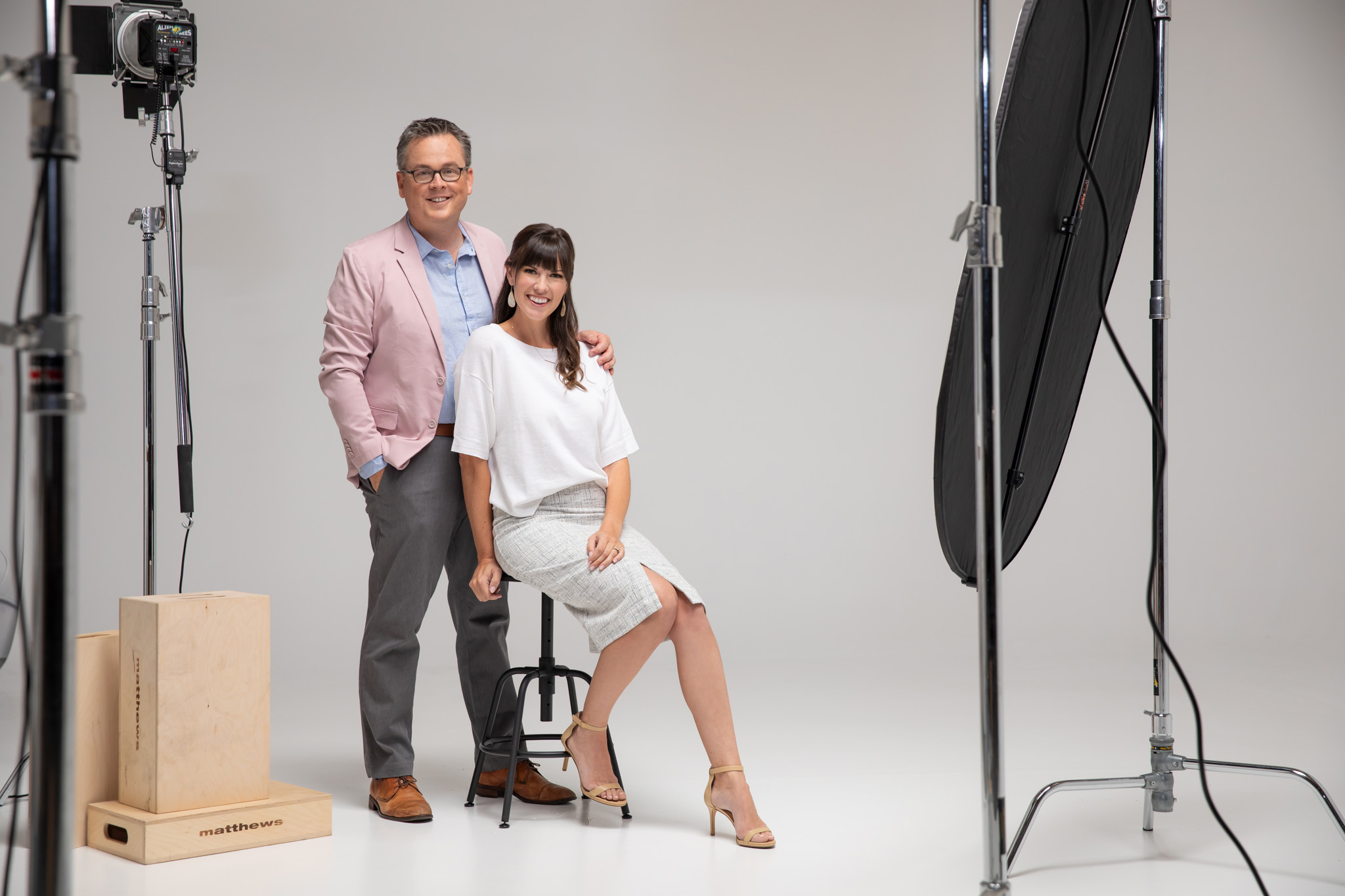 The Work We've Done
Working with Erin to help realize her vision was an incredible experience as she had clear goals in mind. Erin and Jeff explained that they sought to teach others the lessons that they had to learn from trial and error, as well as show them that it was possible to balance your work and life as a small business owner.
We developed a plan to help The Youngrens create a diverse collection of images that could be used across social media and on landing pages for their educational brand.  We started with an in-studio headshot session, where we were able to take both individual and paired headshots of the two parent-preneurs.  Since they ran both their photography companies and online education brand as a husband and wife team, they wanted to show how their relationship strengthened their business partnership and helped them grow to where they are today.
To strengthen that image, we continued with an off-site branding photoshoot at Balboa Park; a location where Jeff and Erin had spent many of their dating and newlywed years as young entrepreneurs. By using a location in which they had lots of memories, it allowed them to talk about their personal experiences as business owners on social media and their website. It also gave us the perfect opportunity to get some incredible images of the couple laughing together and having fun; showing their students that you can truly love what you do.
Our third and final session was at The Youngrens' house, where we took photos of them in their personal space to humanize their experience as small business owners that (just like many other photographers) juggle their lives on the daily as entrepreneurs and parents. We got some seriously adorable photos with them and their son, both playing with and working alongside him. By getting these photos, we were able to show how Erin balances her life as a mom and a businesswoman, not sacrificing any aspect of her life.
Finally, once Erin and Jeff had chosen their own images, we were able to go through and touch each of them up to assure that there weren't any stray hairs, distracting people in the background, or anything Erin wouldn't want in her clients' photography. By doing this, Erin and Jeff each ended up with a variety of images that they would be able to use for social media and to advance their brand as they launched this exciting new course.
A Personalized Brand
Erin and Jeff needed images that would connect personally with their students. They needed to build trust with potential students and to craft a brand that showed her and her husband not just as successful business owners that run a studio that generates over half a million dollars every year, but as people who can relate to their struggles and circumstances.
A Diverse Selection of Imagery
Launching an online course and running an online business requires constant content creation, and Erin's online presence included various social media pages, a podcast, social media ads, and a library of landing pages on which they had their educational content for sale.  In order to best sell her online products and launch her new course, she needed different and unique imagery for each page.
Quality and Reliable Images
With her new course having a specific timeline to launch, Erin needed quality content that would boost her profile, as well as arrive on time.  As a photography educator, her images needed to both reflect her and the standards of quality that she had for her own work.
"The team at Bauman Photographers is organized, responsive, and incredibly talented! There's no one else I trust to capture my true personality and brand."
Erin Youngren
Owner / The Youngrens
Personal, Behind the Scenes IMAGES
For this session, we sat down with Erin to discuss her goals for The Youngrens' educational business, and what she hoped to accomplish in launching this company.  As she sought to show her clients that you can balance your work and personal life, being a successful parent and wife, as well as a business person, we made sure to make that a facet of her branding throughout our work together.
On-Location Lifestyle Session
During this session, we worked with Erin to create images that reflected her responsibilities as a mother and parent that she balanced with her work and her high standards for anything she did.  As we showed her son and her together as she worked on the laptop, we showed her clients that she was successfully balancing the two facets of her life.  This process of her branding session allowed clients to understand how Erin truly had the experience to show them how to balance and build their business, even if they had other responsibilities.
Complete Retouching
As a successful photographer looking to educate others, we made sure that Erin had photography that matched her own standards.  We made sure that stray hairs, stains, and other details that could distract or disqualify her brand would be fixed so her potential students and clients would know that she held everything she worked on to a high standard