Does the thought of taking a headshot give you butterflies? You know that you want to walk away with a photo that shows your energy, confidence, gumption, etc., but maybe you're nervous about how to actually create that perfect headshot.
An average headshot might look nice, even beautiful, but a great headshot pulls viewers in.
How to achieve this is a combination of finding a photographer who knows what's up and you coming prepared. It's a team effort. After having shots thousands of headshots, we've seen our share of common mistakes that could have been easily avoided.
So leave the posing, lighting, and retouching up to us, and focus on these 5 common Do's and Don'ts that will ensure you are ready and raring to go before stepping in front of that camera.
DON'T TAKE YOUR OWN HEADSHOT. HIRE A PROFESSIONAL.
I love a good selfie, but they need to be reserved for Instagram. It's important to find a photographer who is experienced with headshot photography, because there is more to taking a good headshot than having a good camera and a self-timer. Beyond having the right equipment for the job, a professional brings an expertise in how to position and light you, and how to evoke those warm yet professional expressions that will pull in potential clients.
Given the same background, lighting, and adorable model below, our brand new iPhone 6s camera still could not capture the warmth and quality the studio space provides. Don't leave it up to Apple to provide you with the professional headshot needed to make that solid first impression.
Check out what it means to hire a professional here.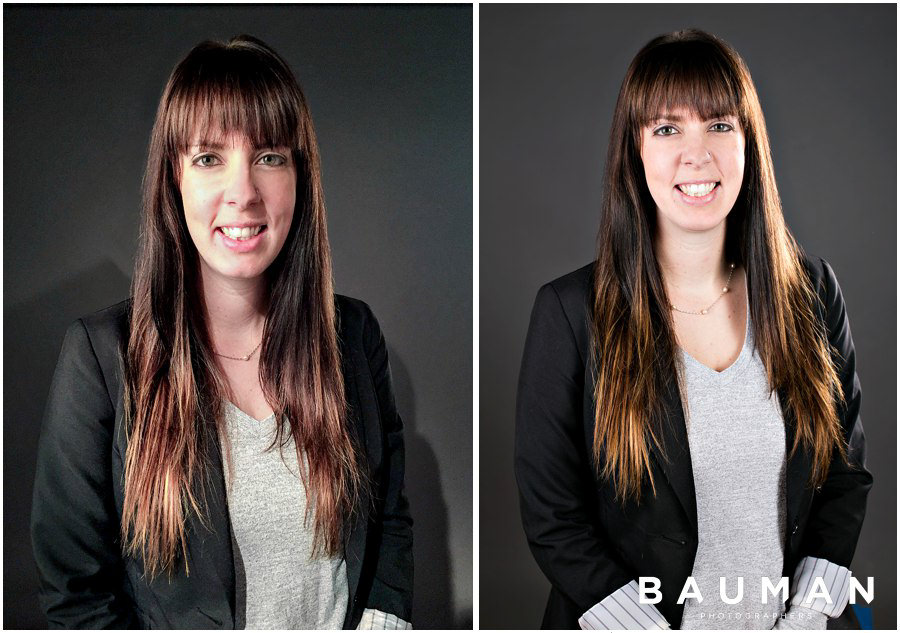 DON'T JUST WING IT! PREP YOUR OUTFIT THE NIGHT BEFORE.
You wouldn't want to just wing a client meeting, so do all that you can to avoid feeling rushed or stressed as you enter your headshot session. You can help yourself relax by setting a date where you'll have plenty of time to prep and rest the night before. Pick out your outfits early. Try everything on and make sure you can move easily. Iron and hang, and then stand back and be proud that you saved yourself precious time in the following morning. Get a good night's sleep and allow yourself enough time for proper grooming in the morning.
If you can't decide, at Bauman Photographers, our clients can bring a few outfit choices and we'll help them pick out the final ones since we know what will be the best choices.
For more on what to do the morning of your headshot, check out our post here.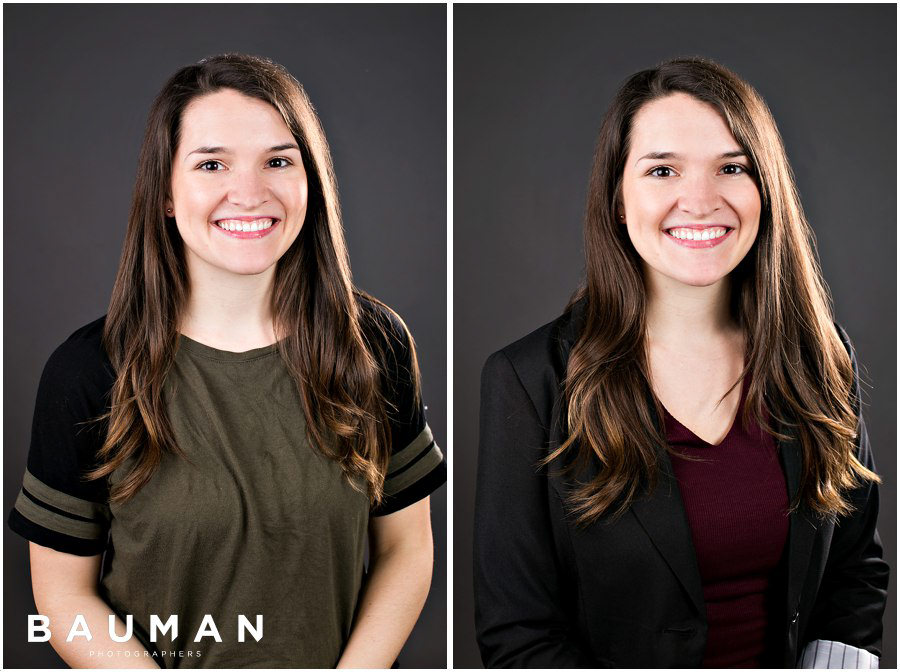 DON'T EXPERIMENT WITH YOUR PERSONAL STYLE. STAY CLASSY.
It's tempting to try out that new look you saw in InStyle magazine, but this is not the time to try to pull off something hip or trendy. In doing that, you'll be quickly dating your headshot and will find yourself needing to retake your image in a year's time. Stick with classy pieces that don't detract from your face. You are selling you, not your clothing.
The goal is to look like yourself on your most polished, put together day. Check out how to put together the perfect headshot outfit here.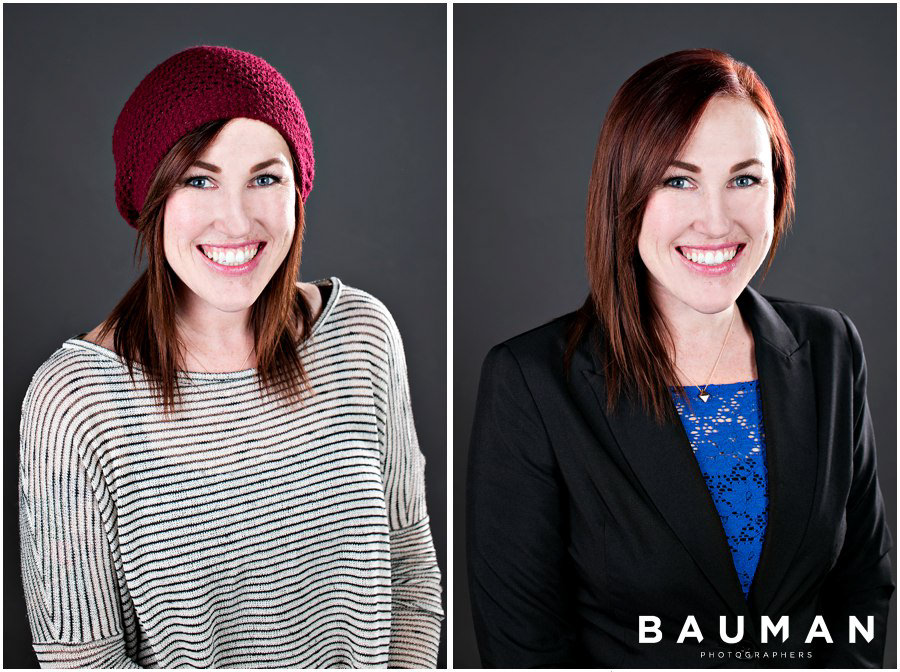 DON'T BE CUTESY OR UNIQUE. KNOW YOUR BRAND AND WHAT YOU REPRESENT.
People want to see you. Potential clients respond best to approachable headshots to indicate what their experience may be like if they choose to work with you.
Think about the culture of your business. When prospects visit your website, what sentiment do you want them to leave with? Consider also who your ideal client is. For example, attracting casual, laid-back clientele vs high-end, formal clientele may require a different set of outfits, setting, or array of expressions. Know who you are and who your audience is, and then share your ideas with us! We want to help you create the perfect headshot for your unique business.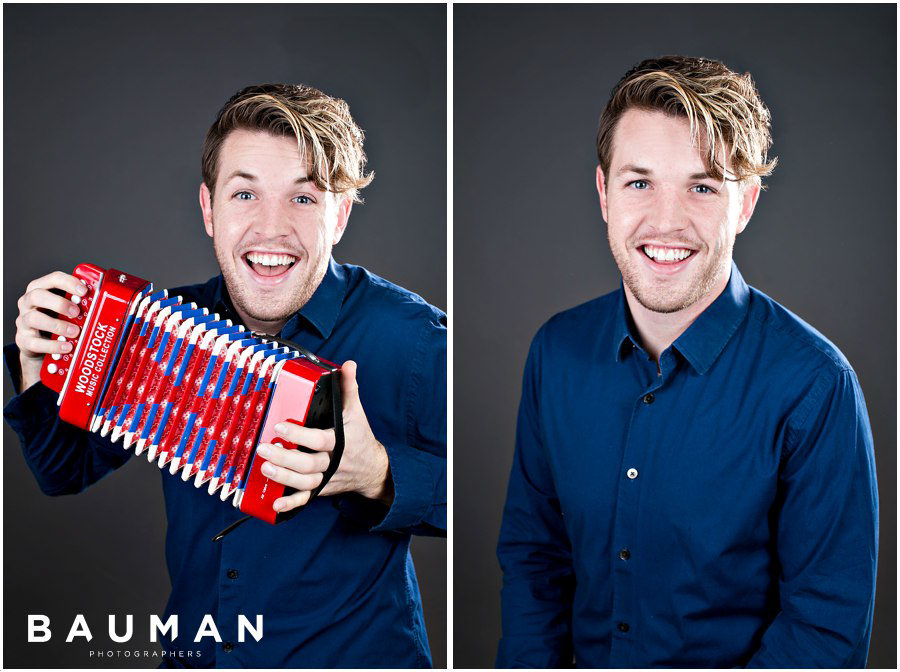 DON'T FORGET YOUR WEBSITE. KNOW YOUR SPECS.
Review your website and what you need for your online business. Is there a background color that will clash with the rest of your website? Do you specifically need a vertical or horizontal headshot? What sizing will you need? Will this be a header image across the top of your site or a thumbnail profile image for your bio page?
Communicate your needs to us. Send us your website so that we can see exactly where and how your headshot will be used. After all your effort, we don't want you to have to do a retake!
Still feeling a bit overwhelmed? We would love to walk you through the process and to hear about your specific needs. Every client and business is different, and we collaborate with our clients to deliver a headshot that captures your unique style! Above all else, come well-rested, prepared, and with a killer smile and trust us to take care of creating the best environment to make you shine.
READY FOR YOUR CLOSEUP?
Are you ready for your closeup? We'd love to hear about how we can create images that will take your business to the next level. Let's connect and collaborate!
LEARN MORE ABOUT HEADSHOTS
BOOK NOW